YOUNG CIBOLA SQUAD REMAINS UNBEATEN
The Cibola girls soccer team been to the state final in three of the last five years.  They even won back-to-back titles in 2015 and 16.  The Cougars were expected to be young this season, but they are currently one of the few remaining unbeaten teams in the state.  Cibola improved to 10-0 on Wednesday night with a 10-nothing win over Atrisco Heritage.
"It's exciting, a little nerve racking," said senior Marah Rosato of the unbeaten streak.  "You kind of think about you don't want to lose, but it's exciting."
"We have a lot of speed on our team and we're very young, so I think we have some potential," said junior Sydni Burrup.
Head coach Gary Zink didn't expect this kind of start to the season.  "No, not at all," he said. "I really didn't.  I saw how young we were going to be and how many seniors we lost from the nice program we had the last couple years and those girls graduated and moved on and I thought, 'we'll see what we have behind that' and these freshmen came in with some sophomores we had left so we're really, really young."
Zink says this group is one of the more technical teams he's ever had in his seven years in charge of the Cougars.  "Their ball skills, their ability to stay on the ball longer than other teams I've had in the past," Zink explained.
Junior goalie Jade Sackett has stepped up her game.  She's only given up three goals in ten matches.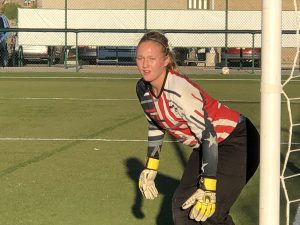 "Jade started out as a freshman with us on our C-team and we had great keepers in the past so she was held back," explained Zink.  "Now they're all gone so Jade moves up to the varsity level.  She's been doing a great job.  What I like about Jade is her work ethic.  She knew she was a little bit behind at the beginning.  She does varsity practice, she'll go to JV practice and so she does a lot of work to catch up where she needs to be technically. We're really proud of Jade."
Could this be another state championship season like the ones Cibola had in 2015 and 2016?
"I hope so," said Zink. "I won't know until we get there. I keep waiting for the other shoe to drop and who knows when that's going to happen.  We're getting ready for district and I've got a very tough district game after game after game.  It's very, very tough."
The Cougars have a tough non-district game on Friday when they face La Cueva for the second time this season.  Cibola beat La Cueva earlier this year 3-nil.