FROM GAMEBOY TO GAMEDAY, CASILLAS IS A WORKHORSE
The Belen Eagles made it all the way to the 5A state championship last season, falling short to eventual champ Artesia 48-14.  Head coach Greg Henington hopes to make a return trip to the final game of the year using his workhorse running back Diego Casillas.
"This season he's a lot stronger than he was," said Henington.  "He spent a lot of time in the weight room.  You can see it physically."
As a senior, Casillas is now 6'1" and 200 pounds. Casillas also has a better understanding of what's expected of him.
"The pressure of being a leader is more on us seniors," said Casillas.
Casillas rushed for over 2600 yards and 33 touchdowns last season.  Henington isn't expecting a repeat performance as far as his numbers go.
"We're not really caught up in the stats or anything that he put up last year," Henington explained.  "It's more about being a leader and being a good workhorse for the football team."
Henington describes his workhorse as a fast player out of the backfield who knows how to find the hole.
"He's got very good vision, he's extremely strong.  His speed has increased dramatically, so we're looking for him to break some long ones. I just think the work ethic that he has will just translate over to his running style."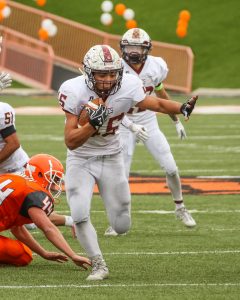 "I think one of the big improvements he's had is his hands.  He can be much more of a receiver threat coming out of the backfield or as the slot, so we're excited to see how that works out."
Casillas first became interested in football through video games.  "If I'm being honest, the first time I did anything with football was on my Gameboy.  I was playing and I liked it since then.  I'd ask my dad to show me routes and I just always loved it."
The Eagles open the year against Del Norte on Saturday August 25th.