SUPER LOOPER: BROTHERS BOND ON THE GOLF COURSE
They both helped Cleveland High School win a state golf title in 2017, but this week one was trying to earn a qualifying spot to the US Amateur while the other was his caddy.
Junior-to-be Enrique Armijo carried the bag for his older brother Alejandro for two rounds.
"It was actually his idea because I've caddied for him before," said Enrique.
If the 16-year old isn't playing golf, looping for big bro is the next best thing.
"I love caddying because it gives you the inside scoop without playing and I can learn a lot as a player caddying for him," explained Enrique.  "Watching the decisions he makes, the way he acts, the things he does, I use that as a learning experience."
So what kind of caddy is he?
"He's known as the mental person, the mental strength in the family for the golf part and I'm the physical," explained Alejandro. "He's the brains and I'm the brawn, so with that we thought the pairing with him being the caddy and me being the player could finally put it together."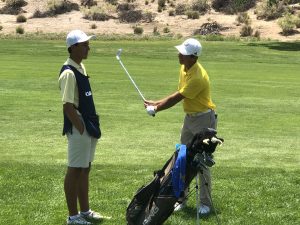 But it wasn't meant to be on this day.  Alejandro didn't earn one of the two qualifying spots.  However, it was a bonding experience between the college-bound golfer and his younger brother.
"Now that I'm leaving, I feel as if it's brought our relationship closer in terms of family and golf," said Alejandro.
"We've been getting closer as it's getting closer to leave for college," Enrique said.  "This is definitely a good bonding experience. We're going to be playing a lot together before he leaves."
Caddies typically earn either a flat fee or a share of the earnings. So, (as Bill Murray said in Caddyshack) 'how about a little something, you know, for the effort?'
"Maybe he'll buy me lunch or something," guessed the younger brother.
"He'll get a prize, for sure, no doubt," Alejandro said.  "To deal with me at my best and my worst definitely deserves something for sure."
Alejandro will play golf at Oregon Tech in the fall while his younger brother is a junior-to-be at Cleveland High School.
NOTEWORTHY:
Former St. Pius X golfer Patrick McCarthy earned one of the qualifying spots to the U. S. Amateur Championship.  McCarthy posted a second round 69 at the UNM Championship Course on Tuesday to punch his ticket to Pebble Beach, California next month.  El Paso, Texas native Greg Yellin won medalist honors with a two-day total of eight under par.