GOLFER DOESN'T LET NEAR TRAGEDY SLOW HER DOWN
"To be a state champion, to have something tragic happen in your life and to fight back and try and retain what you had before..it's an inspirational story," is how St. Pius X golf coach Chris Moya explains the comeback of golfer Ashlee Garrett.
Earlier this year, recent St. Pius X graduate Ashlee Garrett was involved in a near tragic car accident on the way to school. She suffered a fractured vertebrae along with a broken ankle.
"It was a little scary seeing the truck come at us," recalled Garrett. "But I'm just happy to be here and back to playing golf."
The vehicle she was in was destroyed, but her golfing career was not.  Garrett was back to playing just weeks after the accident and this spring she helped her team win a state title, the program's first ever.  Garrett shot a final round 74 and finished tied for second individually.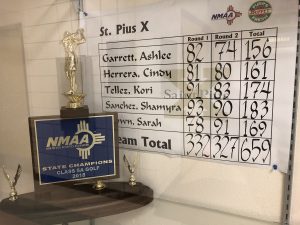 "Getting to win with my team was one of the greatest experiences because we'd been wanting to win for so long and to end it that way was perfect," said Garrett.
"She's an inspiration to all, not just my JV, but to any little girl that wants to play golf to never give up," Moya said.  "If you really want to play this game and play it at your best then you're willing to do whatever it takes and she obviously did."
Garrett will tee it up at the New Mexico-West Texas Amateur Championship this week.  She will golf for Long Island University Brooklyn in the fall.