NEW MANZANO FOOTBALL COACH HAS MESSAGE FOR HIS TEAM: EVERYTHING MATTERS
Summer workouts for the football team at Manzano High School aren't the same.  There's a new man in charge of the program.  Former Monarchs assistant Phillip Martinez is their new head coach.
"It's been a lot, it's a new challenge with a lot of new things coming at me, but one day at a time and we're excited to start fall camp August 6," said Martinez.
Martinez takes over for head coach Chad Adcox who stepped down at the end of the season.
"You get a different vibe, you get a different energy from him," said running back Xavier Ivey Saud about the differences between the two coaches.  "They're not the same people, so you get a different perspective on offense and defense, this being a defensive coach being a head coach now is more of a defensive person."
"The energy around practice is ready to go," confirmed senior Ezekiel Fox.  "Everyone's engaged all the time and practicing all the time."
Martinez knows a little something about the Manzano program having been an assistant since 2009 and he played with the Monarchs in 2003-2005.
"It's been my goal since I was 20 years old," explained Martinez. "I started coaching when I was 20, I knew one day I wanted to be a head coach.  I'm just happy to be here at Manzano where I went to school. I grew up in this community and I want to be a difference with these kids."
Martinez comes in with a two word message to his team: everything matters.
"Everything you do throughout the day matters.  Getting a good night's sleep matters.  Waking up, getting ready, making sure your bag is packed for school matters.  Being on time matters.  Giving your best effort in the class and on the field matters. Being a positive influence on campus matters, whether it's picking up a piece of trash or using appropriate language, talking to teachers before and after class, everything you do throughout your day matters.  If you take that mentality throughout your day, it's awesome the student you can be, the person you can be, the athlete you can be if you can focus on everything you do matters to me, I'm going to put a lot of effort in each part of my day."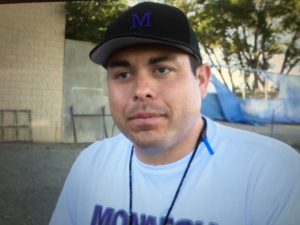 When they start the season next month, Martinez and the Monarchs will begin the new campaign as defending state champs.
"There's a little bit of pressure coming at us but we enjoy pressure, we embrace pressure.  It makes us who we are and it's a good opportunity to see how this new group of kids coming up develop and learn as the season goes on.  That team was very special last year.  We lose a little bit on defense and some players on offense.  You can't replace Jordan Byrd and Andrew Erickson, those are very dynamic players, so finding new players to fit those roles is a challenge."
Manzano kicks off the season in Las Cruces on Saturday August 25th.