The
NMAA
, a member-led organization, provides leadership in interscholastic athletics & activities, promoting equitable participation and character development.
Cross Country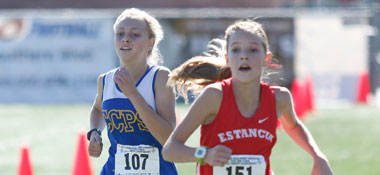 RULES CLINIC

All Head Cross Country Coaches are required to attend the online rules clinic (8/1-31/2016). The clinic is available here.

CROSS COUNTRY FAN ZONE

STATE CHAMPIONSHIPS

PRESENTING SPONSOR




TITLE SPONSOR
Laguna Development Corp.
CROSS COUNTRY INFORMATION
» Sports Specific Committee
» Championship Entry Form
» MaxPreps.com NM Cross Country
» 2017 Schedule of Meets
CROSS COUNTRY BYLAWS
IMPORTANT DATES
First practice for the 2017 season
may be held August 7, 2017.
The 2017 State Championships
will be held November 4th.
NMAA CONTACT
Jackie Martinez
505.923.3281 (office)
505.923.3114 (fax)
jackie@nmact.org
Staff Directory
REGULAR SEASON STREAMING
»Catch all regular season action.


CHAMPIONSHIP APPAREL
» Purchase officially licensed apparel.


CHAMPIONSHIP PHOTOGRAPHY
Conference Hotel