THIS ROSE CAN BE A THORN TO THE COMPETITION
The girls soccer team at Bosque School is off to another strong start this year with a 7-1-1 record heading into this week. "I still feel like we're the up and comers, even though we made it to the finals last year," said head coach Johnny Moya.  "When we take down the King Kongs of our classification, then I'll believe it.  We are working towards that."
"Last year we were the underdogs and it was a surprise that we reached the finals," explained Rose Candelaria.  "This year, we need to be solid in our team and what it takes is us being committed."
The Bobcats return nine starters from last year's state runner up squad and one of those is super sophomore Rose Candelaria. "We're lucky enough to have her here," said Moya.  "Bosque, being a private school, you're not sure what you're gonna get, it's kind of like Forest Gump.  When I saw her, I was excited to have an athlete, just watching her walk across the field.  Athletes are not as common as people think and she's an athlete."
"I've taken more of a leadership role and I'm here to help the team as much as I can," said Rose.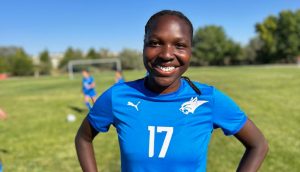 Rose has 13 goals on the season so far with the hopes of a few more before the year is over. "I reached 29 goals last year and I want to hit 40 this year," she said.  "It's a big reach, but I believe I can do it."
"She's dynamic, she's athletic, she's physically strong, and she has a great attitude towards what we do out here," said Moya.  "She's always happy to work with the girls that need experience with the girls taking on that leadership role."
Rose is coming off a three-goal performance against St. Michael's.  Bosque has road games against Los Alamos and Robertson this week.