NMAA EXECUTIVE DIRECTOR AMONG THOSE HONORED BY ALBUQUERQUE ISOTOPES
On Saturday, New Mexico Activities Association Executive Director Sally Marquez was honored by the Albuquerque Isotopes.  Marquez and three other women were recognized by the AAA ballclub as part of their second annual Women In Sports Night.  The team celebrates honorees from a variety of backgrounds and sports who have made an impact in their community.
"There's always somewhere for you to play," said Marquez.  "It doesn't have to be a varsity sport, you don't have to be an All-American, you don't have to be the best on the team.  If you love the game, and you have that effort, that's all it takes."
Along with Marquez, the Isotopes honored track standout and fellow New Mexico Hall of Fame member Sue MacEachen, former University of New Mexico basketball player Nikki Heckroth Lobato, and former Lobo soccer standout Gwen Maly.  All four threw out a ceremonial first pitch before game two of a doubleheader.  Prior to the pitch, the team played a tribute video including all four honorees who have been impactful in their field.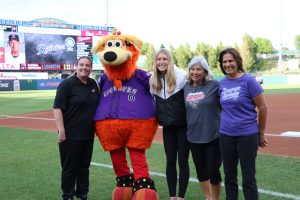 "Failure teaches great skills, so when I look back on my younger self, I would say 'Don't be so hard on yourself.  Enjoy the journey, enjoy the sport, because it's all about friendships and it's all about having fun," Marquez said in the video.
Marquez is a graduate of Manzano High School who has dedicated her life to sports as an athlete, coach, and now, administrator.  She played basketball, volleyball, and ran track in high school and played on the Lobo women's basketball team in college.  She coached boys and girls basketball, track and field, and soccer.  Since 2012, Marquez has been the Executive Director of the NMAA and is currently the National Federation of State High School Associations President.  Marquez was inducted into the New Mexico Sports Hall of Fame in 2004.