LOS LUNAS TIGERS COMBINE 7 SENIORS & A SUPER SOPHOMORE
The Los Lunas boys basketball team has seven seniors, but for five of them, this is their first year on varsity.  It's up to veterans like Ezra Guest to help lead the way. "First of all, he's an amazing kid," said head coach Travis Julian.  "I always tell people that when you walk in the gym and look at him, you might not think much about him, but then when you watch him play you realize he's a very crafty guard.  He can score in a variety of ways.  He's a good defender for us and he's a really good leader.  He's a big part of what we do."
"I see my role as a leader," said Guest.  "I'm trying to embrace it and make it a fun year and just win.  That's my goal this year.  I don't really care who gets the most scoring or anything like that, I just want to win."
The Tigers also have one of the most dynamic players in the state.  Sophomore Jalin Holland drew college offers as a freshman. "I like to call myself a shooter, but most people like to argue that I'm better going to the rim," said the sophomore.
"Jalin is a very unique player and dynamic in the way that he can score the ball," said head coach Travis Julian.  "He can shoot it from behind the arc, he can go to the rim, good finisher, he's real physical when he does go the rim."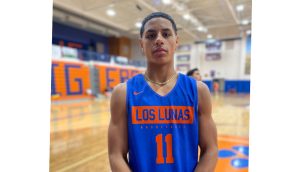 "He's pretty tough to guard, to be honest," said teammate Ezra Guest.  "When he's on the other team (at practice), it's so annoying trying to guard him.  He's a real talented scorer and then his size, he's so big for a guard."
At 6'4", Jalin is one of the taller players on their roster and he's forced to sometimes battle on the block, even as a guard. "Jalin is one of our bigger guys, but he's also one of our guards, so we have to use him to defend bigs."
The multi-sport athlete had to miss out on football season because of an injury, but he's showed no signs of slowing down on the basketball court. "I broke my arm at one of the practices," Jalin said.  "I healed pretty fast though, and I don't have any problems anymore with it."
Los Lunas has never won a boys basketball state championship, but head coach Travis Julian has been to the final three times. "I'm confident that we can go on a run," said Julian.  "But a lot of it has to do with matchups.  That's why everyone is fighting for those seeds right now, to try and get that good seed.  But you never know, you could get a high seed and end up with a bad matchup.  I'm confident with our opportunity, I think we can make a run in the state tournament."
Those matchups will be announced on Sunday February 26th.