BLOOMFIELD TWINS TAKE HOME A PAIR OF TITLES
Even though Bloomfield High School came up a half point short of winning a team championship, their program did land a spot on a very rare list after the 2023 New Mexico Army National Guard State Wrestling Championships.  A set of Bloomfield twins both won individual state championships in the same year.  Gunner Samora won the 107-pound title with a 9-4 decision over Joshua Jaramillo of Belen.  His identical brother, Hunter Samora, claimed the 114-pound crown with a 3-1 decision over Landon Atencio of Espanola Valley.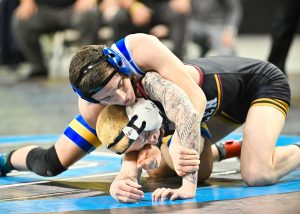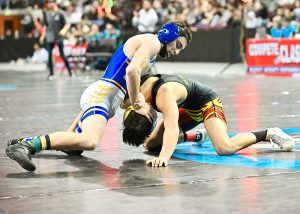 photos courtesy XL Sports
"Winning that state title was really exciting," said Gunner reflecting on the state title.  "I didn't know what to do or think, it was a lot to take in at once."
But immediately after Gunner had his arm lifted in victory, his 16-year old brother was about to take the same mat for his own championship match.  When asked what he was thinking when his twin Hunter stepped into the wrestling circle after him, Gunner joked, "He better win."
Hunter delivered.  "When I won mine, it was like a dream come true," he said.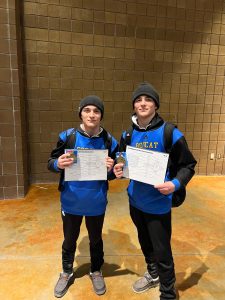 photo courtesy Hunter Samora
Hunter, who usually weighs 20 pounds more than Gunner, describes his brother as fast and unpredictable.  "You never know what he's going to do," said Hunter.  "For his weight, he's pretty strong."
Gunner describes Hunter as a strong, powerhouse wrestler.  "He's very technical and never gives up," said Gunner.  "Hunter always keeps going."
The identical twins have been wrestling since they were five.  Both are sophomores and picked up the sport when their dad, a Bloomfield alum, introduced them to wrestling at a young age.  Because of the weight difference, they are not usually drilling partners at wrestling practice, but still sometimes go head-to-head.  "After practice is when we sometimes work out with each other a lot," said Hunter.
The state wrestling title is not the only gold medal the brothers received this year.  Both played on Bloomfield's state championship football team.  The two spend time on the gridiron in the fall, but the wrestling room is where they spend most of their time the rest of the year and they don't plan to stop.  "We are going for three (state titles), three is the goal," said Gunner.
Gunner and Hunter are not the only twins who have won individual state wrestling titles in the same year.  Highland High School's Brandon and Brad Alderman also won state titles in 1991 and 1992 (they were also state runner ups in 1990) and both went on to wrestle for the University of Wyoming.  The Aldermans were named High School Academic All-Americans in 1992.
Bloomfield also produced three other individual champions this year: Elias Johnson (127) and Adan Benavidez (133-finished the season with a perfect 50-0 record), and Amia Goins (Girls 185).