Las Cruces Head Coach William Benjamin Picks Up Career Win #300
*photo courtesy Las Cruces High School/Twitter
Las Cruces High School boys basketball coach William Benjamin recorded his 300th career victory on Monday night with a 64-50 district win over Centennial High School.  Currently, his overall record is 300-95.
Benjamin has won a pair of state championships (2013, 2020), with three runner-up finishes in 2017, 2021, and 2022.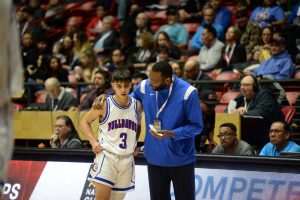 Benjamin first accepted a teaching job at Las Cruces High School and signed on as the Bulldawgs assistant coach in 1997.  He became head coach in May of 2009.  The former Aggies basketball player was inducted into the NM State Athletics Hall of Fame in 2022.
Las Cruces is currently 11-9 on the year and will host rival Mayfield on Thursday.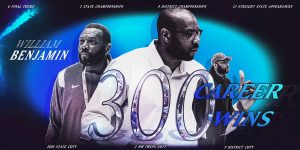 Graphic courtesy LCHS/Twitter