Austin Denton Is Gone But Not Forgotten
This week marks the passing of inspirational sports broadcaster Austin Denton.  The 18-year old La Cueva High School student died on December 17th, 2019 due to complications from a tumor.  Denton battled a spinal cord tumor that was discovered when he was just 2 years old.  His driving theme to others was to "Seize the moment-every moment counts."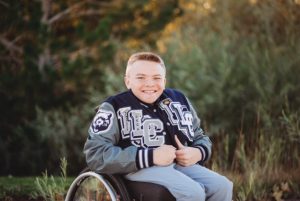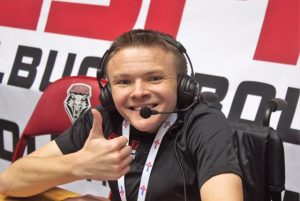 His memory and impact are not forgotten.
Albuquerque Academy junior linebacker Brody Whitaker honors his former friend by writing Austin's memorable phrase "Seize the Moment" and date of his death on tape and places it on his pads (Photos courtesy Jon Denne).  Whitaker has been doing this for the past couple seasons, since Austin's passing.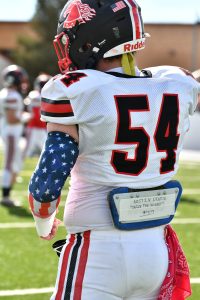 "I started writing this down as a reminder to me that even when challenges present themselves on the football field, you have to take them on with full force to overcome them," Whitaker explained. "I look back on Austin's life often and think of all the adversity he overcame, the hardships he endlessly fought through, but ultimately, the kind of man Austin was despite what he was facing. Austin truly inspired me, not only by his words, but his actions in how he handled everything in life, ranging from school, friends, family, activities, all the way to him announcing high school games, and even an NFL Draft pick for the Denver Broncos. Another reminder to me is that no matter how bad you think you have it, or if you are tired and don't feel like doing anything, there is always someone who has it worse than you who is fighting for their life every single day. So, why worry about minor inconveniences when there are bigger issues people are facing?"
Brody first met Austin back in 2012 when the two families became neighborhood friends.  "My older brother, Tanner, Austin, Austin's younger sister, Skye, and myself would spend hours on end three or four days of the week outside playing basketball, throwing the football around, and tons of other games as kids," said Brody.  "The impact that Austin left behind on all the people who had the privilege of knowing him is nothing short of astounding. Personally, I think of Austin at least several times a day, and I remember him primarily by memories, but also by wearing the 'Austin Strong' and 'Seize the Moment' red and white bracelet every day. I also have a bracelet on my rearview mirror in my pickup truck, along with his funeral order of service that is pinned to the inside of my football locker that is there for me to see each time I open it."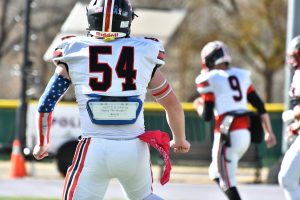 Denton was a part of several sports broadcasts on radio and television, as well as the public address announcer for La Cueva High School.  He also wrote sports stories on his own website.  Confined to a wheelchair or crutches for most of his life, he didn't let his condition stop the pursuit of his passion, sports.  Denton introduced the Denver Broncos first-round pick in the 2018 NFL draft and interviewed Peyton Manning at the Super Bowl.  Denton was also selected as the 2018 Section VI winner of the National High School  Spirit of Sport award, an honor given to an individual that demonstrates resiliency.
Austin's memory lives on through the Austin Denton Foundation.  https://www.theaustindentonfoundation.org/
The Foundation was established in 2021 to raise funds and awareness for organizations that serve, support, and create opportunities for individuals.
To contact the Foundation, send an email to theaustindentonfoundation@gmail.com