ATC Student Plays Dual Role As An Athlete & An Official
Chanelle Jaeger is a busy high school student.  She plays basketball and competes in track at Academy for Technologies and the Classics.  She is also a member of the National Honors Society and participates in Student Council at her school located in Santa Fe.  Chanelle also plays volleyball at Capital High School.  Even with her busy schedule, she finds time to give back to her sport as an official.
"I wanted to see what it was all about, and I knew it would give me a little money and let me be a part of the game," said Jaeger.
Jaeger completed her first year as a volleyball official this past season.  She says she has an even greater appreciation for officials after becoming one herself.  "Oh yes, I definitely try to keep a more level head, and remember that they are just doing their job and helping make the game go smooth," she said.
The senior says she was welcomed by the other veteran officials with more experience.  "They're always welcoming to every official that wants to ref," said Jaeger.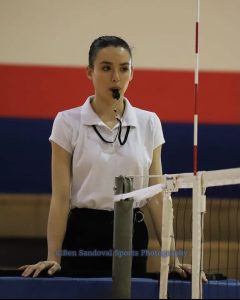 photo courtesy Ben Sandoval Sports Photography
"We are excited to support our High School students who are continuing their contributions to high school sports by becoming game officials," said NMAA Commissioner of Officials Zac Stevenson.  "This is a great way for students to give back to sports that have given to them."
Jaeger encourages other students to get involved and give officiating a try.  "It's not as scary as you think," she said.  "Every ref is really nice and there to help the kids.  They just really love the sport.  I'm excited to continue being an official in the future."
To sign up to become an official, go to https://highschoolofficials.com/