ROSWELL MIDDLE SCHOOL STUDENT DISPLAYS COURAGE AND CHARACTER
Christian Orosco of Mountain View Middle School in Roswell is very involved in his community participating in football, basketball, soccer, and track and field.  But it's an incident he was involved with off the field that drew the attention of others.  Christian doesn't consider himself a hero, but there are many people who would disagree.
In early October, Christian and about two dozen of his classmates were on a bus trip to Las Cruces for AVID (Advancement Via Individual Determination), an in-school academic support program to prepare students for college. The bus was driving along U.S. Highway 70, in route to their destination at New Mexico State University, when the bus suddenly swerved to avoid hitting a tractor and ran off the road and into a ditch near Tularosa.  The bus was flipped on its side.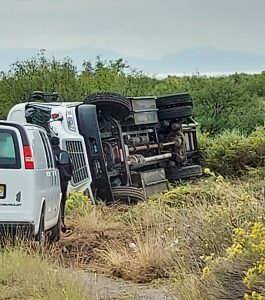 "I was talking to my friend when I felt the bus jerk, it started to swerve, and we flipped," said Christian.  "I blacked out for a couple seconds and when I opened my eyes, everyone was on the floor screaming.  That scared me at first."
In spite of being overcome by fear, the 14-year old sprang into action. "My instinct was to get out and help people," said Christian.  He opened the top latch of the bus (on its side) and climbed out.  Christian was the first one out of the bus.  Then he opened a second emergency exit and continued to help the other students off the bus.
"To be honest, I've never been in a situation like that," he said. "I went off adrenaline or something, immediately I knew I had to get off the bus and help the situation we were in."
Once everyone was off the bus, several of the students, including Christian, were transported to local area hospitals, and treated for minor injuries. Christian suffered a minor shoulder injury, missing that week of school.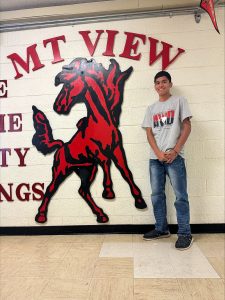 "He was so brave and such a big part of helping the situation," said Mountain View Middle School Assistant Principal Jamie Stuart. "We are grateful to have him and proud of him and his decision making at that moment."
When Christian returned to school the next week, he was understandably apprehensive about getting back on a bus.  "What scared me was the turns," he recalls.  "I was more alert looking out the windows, but my friends comforted me. I realized that things happen, and you can't live your life scared."
Since the accident, Christian has received thanks from every direction. "When my teacher came back to school, she gave me a big hug and a letter thanking me for helping her off the bus. My parents are proud of me about how I reacted in that situation. At the accident, the sheriffs asked me what happened and then they gave me a pat on the back and told me that I did really good."
Christian's advice to others who might find themselves in an unfortunate situation like his is to remain calm. "Don't overreact," he said.  "Try to do what you can to help the situation you're in, help others to make them feel better, and do the best you can to get through it."