'RUN FREE' IS THE KEY FOR RAYLEE HUNT
When it comes to cross country, St. Michael's distance runner Raylee Hunt is the one to catch in Class 3A.  Last season, Hunt won five of the eight races she competed in and not only won the state title, she blew away the field, finishing first by over a minute and was named Gatorade New Mexico Cross Country Runner of the Year for all Classes.
"My freshman year, to win, and to have such a great season, it motivated me for this year since I have a lot to live up to," said Hunt.
"Before every race, my dad tells me to 'Run Free'," she said.  "Normally before a race, I get super nervous and sometimes I won't do well, but when he says 'Run Free', I forget about everything and just run as hard as you can."
Running isn't the only sport Raylee is good at.  She has been spending quite a bit of time in the pool and finished sixth in the 100-yard breaststroke back in February. "Swimming really benefits running because of the cardio," said Hunt.  "It's a great way to cross train and I think it really benefitted my running."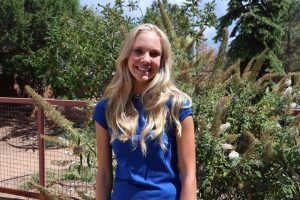 "This cross-country season, I'm focused on getting my mileage a little higher and focusing on speed.  Because I spend so much time in the summer swimming and training, that it's really going to benefit me this year."
How did she get into distance running in the first place?
"When I was little, my parents threw me in every sport to see which ones I was good at," she said.  "I've been doing cross country since I was eight and I realized I'm much better at distance running."
On the track last season, Hunt pulled off the triple play, winning the 800, 1600 and 3200 meter events.  Her eighth-grade year she won the 300 meter hurdles and finished second in cross country. "I have this jar and I put all of my '22 goals in it, cross country goals, track goals, swimming goals, and then I'll write them down in my notebook," she explained.
That notebook is going to be pretty full in the coming years.