NMAA RECOGNIZES 2022 DISTINGUISHED SERVICE AWARD RECIPIENTS
The New Mexico Activities Association Distinguished Service Award is given annually at the NMAA & NMADA Fall Leadership Conference.  The individuals receiving this award have all contributed significantly toward the good of the Association in one form or another.  Each recipient has supported interscholastic activities for numerous years.  The 2022 honorees are Josh McCurdy, Dennis Roch, and Neil Swapp.
Josh McCurdy received his degree in Health Promotion and Education from Morehead State University where he was a member of the cheer squad from 2003-2006.  He helped his team win UCA National Championships all four years.  He has served as the Director of the U.S. National Junior All Girl and Co-ed Teams from 2017 to the present, earning world championship titles along the way.  Josh has been a part of Varsity Spirit for 22 years.  He currently serves as the National Curriculum Director for UCA and Brand Manager for Varsity's V!ROC Choreography.  He currently lives in Memphis and has been a valuable asset to the NMAA when it comes to the sport of Spirit.
Dennis Roch grew up in Clovis and earned a teaching degree from Eastern New Mexico University.  He then continued his studies in the Washington D.C. area to earn his master's while working with U.S. Senator Pete Domenici.  After some time in the nation's capital, Dennis would return to New Mexico to serve in the Land of Enchantment.  He would go on to teach and coach at Texico, become an assistant superintendent in Tucumcari, and eventually take his talents to Logan to serve as the superintendent of Logan Municipal Schools. He has served on the New Mexico State Board of Education and elected (and re-elected) as a State Representative for District 67.  He's served on multiple committees and has been a big supporter of the NMAA and education-based athletics and activities.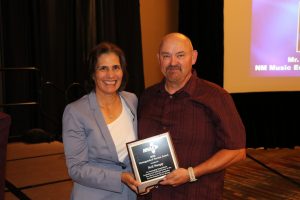 A native of New Mexico, Neil Swapp received a Music Education degree from New Mexico State University and a master's degree in Trumpet Performance from the St. Louis Conservatory of Music.  After the completion of his studies, he returned to New Mexico to begin his teaching career with Cibola and Mayfield High Schools.  Under his leadership, his concert and marching ensembles have been recognized throughout the state and nation for their superior performance by winning numerous competitions and festivals. His ensembles have also participated in the Macy's Thanksgiving Day Parade and the Pasadena Tournament of Roses Parade.  Neil is currently an adjunct professor at Western New Mexico University and serves as the Executive Director for the New Mexico Music Educators Association.  He is a vital part of the music community in New Mexico and a driving force behind the state band and music contests each year.
Mr. Josh McCurdy, Mr. Dennis Roch, and Mr. Neil Swapp were all recognized with commemorative plaques during the NMAA & NMADA Fall Leadership Conference Lunch Banquet that was held on September 26th.  Their service to the NMAA and the youth of New Mexico is greatly appreciated.