"I think he's been the top quarterback (in the state) for a couple years now."
The La Cueva High School football team was two points short of the 6A state final last season, falling to Rio Rancho in double overtime.  This year, their offense should carry them a long way.
On the offensive side of the ball, the Bears return 9 of the 11 starters, including arguably the best quarterback in the state in senior Aidan Armenta.
"I think he's been the top quarterback (in the state) for a couple years now," said Back.  "His athletic abilities are second to none, but his leadership and understanding of the offense, and making post snap reads and stuff like that, put him above and beyond," said La Cueva head coach Brandon Back.
Armenta threw for over 2,700 yards and 28 touchdowns as a junior.  He sees his role this season as one of the leaders on the team.  "Just building other guys up, day in and day out," said Armenta.  "I have to be a strong and vocal leader this year, building off what I did last year.  If I can do that, and show up every day and be a leader for those guys, I think we'll do the right thing."
"He's very dependable," Back added.  "His teammates know that if they need something, whether it's throwing routes or coming in and helping clean up, he's going to be here and I think that's what makes him one of the best kids we've had here in a while."
Armenta's been working on his game during the offseason as he prepares for his final high school season.  "Smoother release and quicker release," Armenta said of his improvement.  "There's always stuff you can get better on no matter what situation you're in.  If you're a ten year NFL veteran or a two year high school starter, no matter what, you're always going to be working on something and getting better every day."
"I've known Aiden since I was six, so I've always had that chemistry with him," said senior receiver Ian Sanchez.  "We've been throwing the ball around since we were in elementary school, so it's good to have him at quarterback.  He's really talented and he's also a great leader.  He's the first one here, he's always the one arranging team meetings.  He knows what it takes to get to that next level."
"We have a lot of talented receivers, everybody knows that," said Back.  "So, we're probably going to get a lot of soft-shell coverages.  The deep route balls might not be there like they've been in the past.  I think our run game might have a little big bigger of a focus for us because of that.  We have a two-headed monster in running backs with Gabriel Buie (senior) and Myuh Robertson (senior).  Offensively, there's just so much talent that we have that we're going to have to rely on them to make big plays early."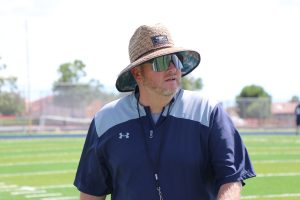 La Cueva's pre-district schedule includes games against Rio Rancho, Cleveland, Centennial, Volcano Vista and Los Lunas, all state playoff teams last season and two state champs.
"We want to play in big games," said Armenta.  "Playing in those games weeks one through five is going to help us so much in the playoffs, already being in those big games."
"It's brutal," said Back.  "We find out real quick where we're at.  It's a good measuring stick.  It's unfortunate they're stacked up one on top of another, but we get a good measuring stick as we head into district play.  If we can stay healthy, that will be the big thing.  You have to be as lucky as you are talented to win it.  We're going to have to stay healthy and do those little things right to give ourselves a chance at the end of November."
The La Cueva Bears open the football season August 19th at Rio Rancho.