Carlsbad Cavegirls Coming Off Back-to-Back Appearances in 5A Final
Only one team outside of Albuquerque has been able to win the girls soccer state championship in the state's largest classification.  Carlsbad accomplished the feat in 2020.  The Cavegirls have reached the Class 5A Final in each of the last two years.
"The last couple years, my message to them has been to leave it all on the field," said head coach Misty Long who is entering her 15th year with the Cavegirls.
Carlsbad returns over a dozen players from last year's group, but they will be missing one important piece.  For the first time in several years, Carlsbad's leading scorer Alexa Dugan will not be on the roster.  The 2020-2021 Gatorade New Mexico Player of the Year graduated.  Alexa's younger sister, Abbey, will play Carlsbad's attacking mid position this year.  "I look to her to lead the attack and hopefully score some goals for us," said Long.  Coach Longs says she also plans to rely on Aislenn Whitzel and Dominque Chacon to help lead the team this year.  Korrine Bradford returns in goal as Carlsbad's keeper this season.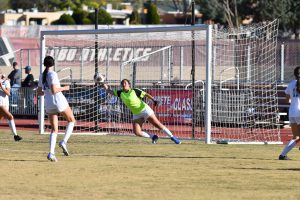 "I think they know they can compete if they come out and play," said Long.  "Is it a chip on their shoulder? No. A lot of my kids understand that we don't play as much as those other players do, but I have a handful of kids playing year-round and it's paying off for us."
Even though the Cavegirls have played in back-to-back championship matches and return a large portion of last year's roster, Long won't say Carlsbad is one of the favorites this season.  "I don't ever want to say we're one of the teams to beat," said Long.  "You have such good talent around the state, and we're work animals down here.  We work hard and leave it on the field.  Going to back-to-back championship games, we probably do have a target on our back, but we also know that was last year and this is this year."
Carlsbad started their season  2-0-1 at a tournament in Las Cruces.  The Cavegirls play their home opener Tuesday against Goddard.