LOS ALAMOS HIGH SCHOOL GRADUATE MAKES HISTORY
Former Los Alamos High School athlete Chase Ealey made history as the first American woman to win a shot put world title.  Ealey, 28, won the gold medal at the 2022 World Athletics Championships in Eugene, Oregon last weekend.  Ealey finished first with a throw of 20.49 meters on the first attempt of the six finals rounds.  She is believed to be the first woman's shot put world champion to win on the first attempt. In June, Ealey set a USA Track and Field Outdoor Championships record with a throw of 20.51 meters to win the national title.
Ealey is a 2012 graduate of Los Alamos High School.  She started her track career as a sprinter and is a three-time state champ in the 100m dash.  As a sophomore, she won the event in a time of 12.88 seconds.  As a junior in 2011, Ealey won three individual gold medals in the 100m dash (12.52 seconds), shot put (42'3.75"-then state record), and javelin (124'01").  That year, she also anchored the winning 4x100m relay (49.05-then state record).  Her senior season in 2012, Ealey successfully defended her state title in the 100m dash with a state record time of 12.35 seconds and broke her own record in the shot put with a record throw of 47'3".  Ealey also won her second straight state javelin title with a throw of 129' and helped Los Alamos win the 4x100m relay in record time (48.65) and 4x200m relay (1:44.94).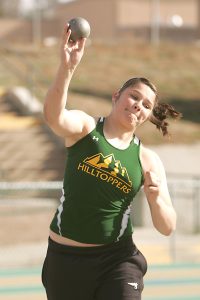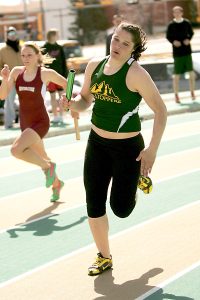 *photos courtesy Los Alamos Daily Post