FROM HIGH SCHOOL TO THE PROS, JORDAN PACHECO HAS SUCCEEDED AT EVERY LEVEL
Whoever said you can't come home again, doesn't know the story of Jordan Pacheco.  His athletic career started in New Mexico and has taken him to Washington, Wyoming, North Carolina, Oklahoma, California, Arizona, Colorado, Nevada, New York, Mexico, and right back to Albuquerque.  Pacheco is currently the hitting coach for the Albuquerque Isotopes, the Triple-A Baseball Affiliate of the Colorado Rockies.
"It's definitely different," Pacheco said about being a coach.  "I used to play every night, but now I get ready to coach them up and hopefully get these guys prepared to move onto the next level."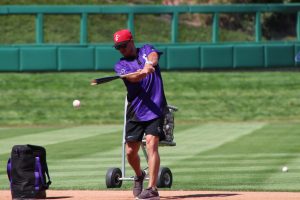 Pacheco never thought he would be back in his hometown coaching a professional team. "You just never know with baseball, things happen all the time," he said.  Pacheco knows what it takes to make it in the major leagues.  Pacheco had a 14-year professional baseball career (six MLB seasons with the Colorado Rockies, Arizona Diamondbacks and Cincinnati Reds).
"It's little things here and there and little adjustments that need to be made," the 35-year old Pacheco said. "Most of the time it's mental adjustments and those are the kind of things I harp on here and try to move along because at that next level everybody can play.  Everybody has the skill, everybody is a big-league baseball player, it's just that mental side that kind of separates them."
Pacheco was a multi-sport athlete at La Cueva High School and won state titles in both baseball and basketball.  Pacheco was an infielder on two state championship teams that was a part of a then-national record 70-consecutive win streak. "It was special," Pacheco recalls.  "It was fun to be a part of it and when you're in it, you don't really know how special it is, but when you get to look back on it and share all those memories with some of those guys, it brings back memories of how good the team was and how much we enjoyed being with each other.  But looking back, I think we were one of the best teams in the country.  I think we could have competed with a lot of other states and their best teams.  I still feel that to this day."  *The 70 consecutive wins by La Cueva from 2002-2005 is currently the 4th longest streak in the country: Portsmouth (NH) holds the record with 89 straight victories from 2008-2012.
Pacheco also played a large part in La Cueva's 2003 state basketball championship.  Pacheco scored the winning basket in the closing seconds of a 55-53 win over rival Sandia. "It's something that's going to stick with me forever, it was really cool how it unfolded," he remembered.  "I remember Matt Honeycutt tipping me the ball, being over there in that scrum with Timmy Crowell, and it just happened to come up in my hands, I saw the basket and it was a clear lane and I said, 'Ok this is going to be it, I'm going down either way, we are going to win or lose right here'.  I remember it like it was yesterday.  I really enjoyed playing basketball under Frank Castillo and all the coaches over there."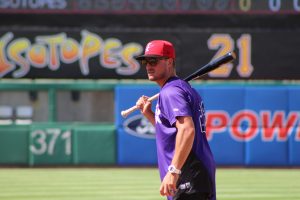 Pacheco says playing multiple sports in high school helped him develop and succeed as a professional athlete. "It's definitely something I want to teach my kids," he said.  "I want them to try things, I want them to learn from other sports and that it's not always about winning and losing, but it's about showing up every day and working hard and trying stuff that's new.  I think it really helped in my development and in my competitive development, being able to compete every day.  I think that's very important when you are teaching young kids how to play the game of baseball, basketball, or any sport, is how to compete."
Following high school, Pacheco played baseball for the University of New Mexico and was named the 2007 Mountain West Conference Player of the Year.  He was selected by the Colorado Rockies in the 9th round of the MLB amateur draft, but some of his best memories are of his high school playing days. "Just the team we had, the guys, the friendships we had, we always wanted to go to practice, we always wanted to be around each other, it definitely helps when you're winning every game to want to do that, to want to show up.  But again, it taught me how to win, it taught me how to be a team player because I wasn't the best player on that team.  I was helping something that was bigger than me.  So that's what it taught me, it taught me how to be a part of a group of guys with a common goal and that was to win."
Pacheco's advice to current high school students is to find a passion.  "It doesn't have to be sports, it can be whatever you want," he said.  "Find something that you want to be better at, not necessarily that you wave to win all the time, but you just want to get better at and for me that's what baseball was.  It was something I just wanted to keep getting better at.  It was a passion of mine, I love it, and that's why I'm coaching now.  I'm able to deal with the ups and downs because I love to be here.  I love to come to the field and be with the guys, I love to help people.  So, develop a love that goes deeper than just the numbers and winning or losing, it's something that you really care about."
"The winning was fun, the state championships were fantastic, but I will always remember the group of guys that I came all the way through high school with, that's the one thing I will always remember.  I will remember how close we were, I will remember how much we had each other's backs, I remember how we all just wanted to have fun and win.  That's probably the one thing that, if I summed it all up, it's just those guys."