RIO GRANDE'S ORLANDO GRIEGO REACHES 400 WIN PLATEAU
Rio Grande High School baseball coach Orlando Griego reached a major milestone on Saturday picking up his 400th career win with a 10-0 victory over Manzano.
Griego graduated from Rio Grande in 1985 and coached all 400 wins with the Ravens over the last 27 years.  Many of his former players were on hand to congratulate the coach. "I want to thank all my former Ravens' players who came out to share in this special moment," Griego said.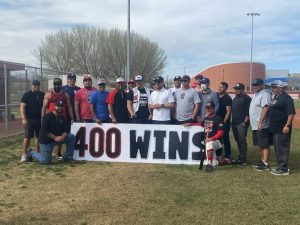 "All the hard work that our community puts into the program is what made it happen," Griego added. "The kids are responsible for all the wins.  I can remember plenty of games I lost," he joked.
Griego was presented with a commemorative hat, shirt, and baseball bat to honor the occasion.  "We've been able to sustain success over a long period of time and that's hard to do," Griego said.  "We've averaged a little over 15 or 16 wins a year for 20 plus years, that's a credit to all the assistant coaches, the parents and the kids. I now have second generation kids coming thru the program. God willing, I'll be able to coach their grandkids, too."
Rio Rancho High School head coach Ron Murphy is the state's all-time winningest baseball coach with over 600 victories.
Rio Grande also beat Manzano 9-2 in game two of Saturday's doubleheader, increasing Griego's overall record to 401-231.  Rio Grande improved to 11-4 on the season and 4-0 in district play.