MORA'S ROMERO REACHES 400 CAREER WINS
Wednesday night, Mora boys basketball coach Manuel Romero reached a milestone mark.  Romero earned his 400th career win with a 65-60 victory against Penasco.  "It's a big honor to win the 400th here, back where I started my career in my hometown," said Romero. "It's a tribute to everyone who helped me reach this point, all those great student athletes in all the schools over the years."
Romero started his coaching career at Mora High School in 1996.  He coached the Rangers for 13 years.  He then coached Penasco High School for three years and Robertson High School for another nine.  This is Romero's first year back at Mora High School, his alma mater.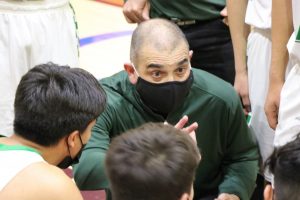 "I would also like to give appreciation to all the great assistant coaches who helped me reach this mark," said the coach.  "My wife, Sandra, and my two sons, Ryan and Keith, have supported me all along the way."
Romero said he still plans to coach for a while and he's thrilled to be back coaching the school he once played for. "You can take the boy from Mora, but can't take the Mora from the boy," he said.
Romero picked up career win #401 on Thursday with a  48-33 victory over Questa. Mora is now 10-11 on the year with a game against McCurdy on Saturday.