Mid-Season Coaching Change Has Been Seamless At Atrisco Heritage Academy
It's not often a team makes a mid-season coaching change.  It's also rare that team picks up right where the former coach left off.  But that's what's happening at Atrisco Heritage Academy in Albuquerque.
Last month, Adrian Ortega stepped down as Jaguars head coach to accept a job as the district athletic director for Albuquerque Public Schools.  Ortega is the only head coach in the history of their program.  Atrisco Heritage ssistant coach Steve Heredia immediately stepped in to replace Ortega.
"That was a tough day, it was a tough conversation to have with our players, but they understood he (Ortega) was bettering his career," explained Heredia, now in his third year at Atrisco Heritage Academy.
The transition has been seamless.  "Coach Ortega gave me a lot of freedom as far as what I do in the program, basically he gave me head coaching responsibility and we acted as co-head coaches," said Heredia.  "The only transition was that Adrian wasn't there.  I think that was harder on me than the players because we really enjoyed working with each other."
"I expected the players to kind of test the waters and maybe not practice as hard as we used to and maybe take some possessions off and not get after it as much, but they've been incredible," he said.  "It was not even a thought in their minds to take it easy, it's been work, work, work.  We are just trying to get better, like everybody else."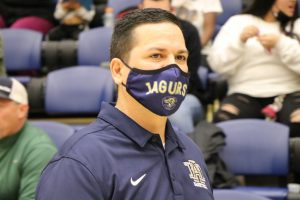 The only losses for the Jaguars are a season opening 57-43 defeat at the hands of La Cueva and a loss in the metro tournament final against unbeaten Volcano Vista, 78-49. "We're 14-2, so there's not a lot to critique them about," said Heredia.  "I don't think we're near where we will be by playoff time, we're constantly fixing stuff."
Atrisco Heritage is waiting for the return of one of their starters. Junior guard Chris Parra is recovering from back problems that flared up during the metro tournament. "I'm not going to move quick on that one, I'm going to be as cautious as possible."
Atrisco Heritage is in a district with unbeaten Volcano Vista, defending state champ Cleveland, and Rio Rancho who has won a state title as recently as 2016.  A team from that district has played in the large school state title game seven of the last eight years.  "I tell everybody it's Murderers Row," he said.  "Four out of the five teams are in the top 10, everyone's roster has talented basketball players."
Heredia won a state title with Centennial in 2015 when the Hawks beat Gallup 52-38 in the Class 4A title game.  He says the North and South versions of basketball are quite different.  "They're a lot different," he said.  "I think, players in the northern part (of the state), specifically in the metro area, they just play a lot more basketball."
Atrisco Heritage won back-to-back state titles in 2018-2019.  Heredia hopes to lift a blue trophy with the Jaguars like he did with the Hawks in 2015.  Heredia knows it will be a tough task, especially facing a team like unbeaten powerhouse Las Cruces. "I watched Las Cruces in their Holiday Hoopla tournament in Las Cruces, and I don't even want to start thinking about those guys.  Las Cruces is gigantic, Deuce Benjamin is an amazing scorer, they're a handful."
Atrisco Heritage will take the floor again on Tuesday when the Jaguars host Cleveland.