FOOTBALL NOTES: Ridenour Leaves Cleveland, Storm name replacement quickly, Hall of Famer Neely Dies At Age 78
GOING OFF TO COLLEGE
One of the most successful high school football coaches in New Mexico over the past decade is leaving a powerhouse program for a collegiate job in his hometown state.  Heath Ridenour stepped down as head coach at Cleveland to become the quarterbacks coach at the University of New Mexico. Ridenour played quarterback at Lovington High School and Eastern New Mexico University.
"We've added a huge component to our program, and it's something that the state of New Mexico, one day after its 110th birthday, needs to celebrate," said University of New Mexico head coach Danny Gonzales.
Ridenour led the Storm to three state football championships (2015, 2019, 2021). He compiled a 96-18 record (84% win percentage) over ten seasons at Cleveland.  Ridenour was the offensive coordinator at Cleveland, helping the Storm win a state title in 2011, before taking over as head coach in 2012.  Ridenour never had a losing season with the Storm and Cleveland won 10 games or more in seven of his 10 years in charge.
"We left (Cleveland) on a 22-game winning streak and 28 of our last 30," said Ridenour.  "I wondered what could that turn into, but I was able to leave Cleveland in an awesome situation with great players coming back and great coaches on the staff. To leave that place in the condition it is, it fills my heart, I'm happy."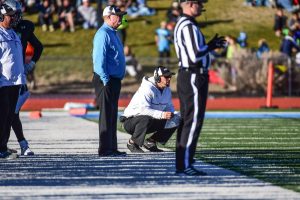 "I want to thank the players that came through our program and gave us everything that they had," Ridnour said in a social media post.  "I want to thank the assistant coaches that worked tirelessly alongside me to help provide our student athletes an experience that was worth sacrificing for each day."
"I want to thank our administration," he continued.  "Our principal, Scott Affentranger, and his staff are the glue that holds Cleveland together.  They have provided so many opportunities to allow coaches, teaches and athletes to achieve success."
THAT DIDN'T TAKE LONG
Cleveland named Robert Garza their new head coach, replacing Ridenour.  Garza had been coaching at the school since it opened in 2009.  He spent the last ten years as the Storm's Special Teams coordinator and linebackers coach.
FARMINGTON GREAT NEELY PASSED AWAY
One of the top prep athletes to ever come out of New Mexico passed away this week.  Longtime Dallas Cowboys offensive tackle and Farmington High School standout Ralph Neely died at the age of 78.
Neely won two Super Bowl championships with the Cowboys and was named as part of the NFL All-1960's team.  The 4-time All-Pro offensive lineman played 13 years with the Cowboys and appeared in four Super Bowls.
Neely was an all-state football player with the Farmington Scorpions (1960 and 1961) and played in one state football final in 1960.  He also earned all-state basketball honors in 1961 and played baseball and was a shot putter for the Scorpions.  He went on to play football at the University of Oklahoma.  Neely was named All-Big Eight Conference and All-American in 1963 and 1964, playing both ways for the Sooners.  Neely was named to the NFL's all-rookie team in 1965 as an offensive tackle and named to the Pro Bowl in 1967 and 1968.  He retired from the NFL in 1977.  He ranks 11th in Cowboys history with 168 games started.
Neely was inducted into the New Mexico Sports Hall of Fame in 2014.