BERNALILLO'S TERRY DARNELL REACHES 400 CAREER WINS
Bernalillo boys basketball coach Terry Darnell reached a major milestone last week when the veteran picked up his 400th career victory.  Darnell reached the mark when the Spartans beat Grants, 71-55.
"Reaching 400 wins means I have been blessed to be in the head coaching role at Bernalillo High School for a lot of years," said Darnell.  "I've been able to coach great student athletes, alongside some amazing assistant coaches, but most of all I've been blessed to coach in my hometown and hopefully give back to a community that gave me so much as a student athlete."
This is the 28th year Darnell has coached the varsity program at Bernalillo High School.  He has won state basketball championships both as a player and as a coach with the same school.  He led the Spartans to back to back state titles in 2004 and 2005 as head coach, and he was a guard for the Spartans when Bernalillo won it all in 1987.
Bernalillo is currently 5-3 on the year with a game against Miyamura Monday night.  Darnell has 401 career wins and counting.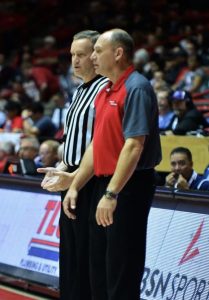 *photo courtesy Marty Saiz