OAK GROVE HAS COME A LONG WAY IN A SHORT PERIOD OF TIME
The Oak Grove Classical Academy soccer program has come a long way in a short period of time.  The team has only been competing for four years. "My freshman year, we would play games with 9 players and lose every game like 10-0," said senior Ben Sowers.  "To come around to having a winning season and successful year, it's been a really positive experience for everybody."
"Our first year, we had 21 high schoolers in our school and four years later we went from 0-16 and not fielding a full team to having a pretty solid season," said head coach Miles Shiver.
Oak Grove is currently ranked fifth in their classification.   The roster includes senior Ben Sowers who is one of the top goal scorers in the state. "I was hoping for 30 this year, my best was 20 my sophomore year," said Sowers.  "My junior year was cut short because of COVID.  I thought that I could get 30 and I guess I got a lot more than 30."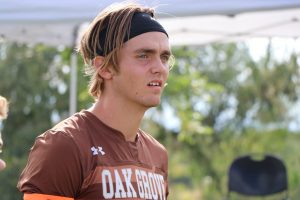 Sowers already hit the 50-goal mark this season (58 goals as of Wednesday) and leads the state in points (137) with a passion for the game of soccer. "I needed a way to express myself athletically, physically, and get out, and it's always been this and it's grown into a passion from there," said Sowers.
"There's so many words that come to mind," described Shiver.  "He's extremely talented, very hard working, but most of all, he's got a very solid team around him.  He's set up by people a lot.  He gets a lot of credit for a lot of the team's success, but people work around him very well.  We have some forwards that sacrificially make some runs that open him up, and some midfielders that do the same thing.  I think it's a team effort for sure."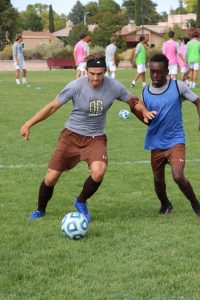 The Oak Grove program is a co-op with Menaul and Evangel Christian and also co-ed with four girls on the roster. "They make me a better person, they make me learn how to be a better leader every day and it's an amazing blessing to have an impact on more people."
Oak Grove (12-4-1) is currently 5th in the latest MaxPreps rankings hoping for a spot in the state tournament next month.