LOSING HIS LEG WON'T STOP HIM FROM PLAYING
Ace Whitson puts his pads on just like any other football player in Logan.  "I like to hit a lot, I do," said the 8th grader.
But Ace knows he's not entirely like everyone else.
Ace suffered a severe injury to his leg while building a fence with his father over Memorial Day weekend in 2020. "We were tapping a post and the connection broke and fell off and the pipe shot my way and hit my leg," Ace explained.
Immediately, he knew his leg was broken but didn't know the severity of the injury.  "They tried to save it, they had done surgeries and everything, but told me I was going to have to get it amputated," he said.
Ace had the lower part of his leg removed, just below his knee cap.  Before the accident, Ace was active with football and basketball and he wasn't about to give that up.
"I was thinking if I was going to be able to do any of the other stuff I had done before and I asked that question and he said 100 percent that I would," said Whitson.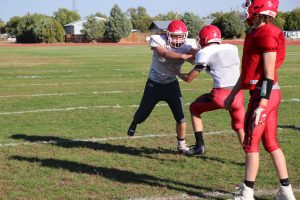 He says the most challenging part was learning to find his balance. "At first it was pretty difficult, but once I got the hang of it, it was easy," he recalled.
The 14-year old has three prosthetic legs, two for walking and a sports leg he uses for football.  The loss of a leg doesn't prevent him from playing.  In fact, in a game against Cloudcroft earlier this year, Ace scored his first ever touchdown.
"He's a great motivation for this team," said head coach Dwayne Roberts.  "He's a kid that comes out here every day, gives everything.  You could say he has a handicap, but I don't think he has a handicap, it hasn't slowed him down.  He comes out with the same heart, tries hard every day, hasn't slowed him down, great kid, great attitude."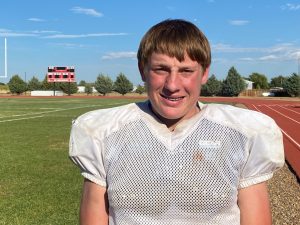 Ace is an inspiration to his teammates with a message for others. "To never give up and to always try your best," he said.
As far as being back, Ace summed up the feeling in one word.  "Great, it's my dream to be back," he said.
Ace and the Logan Longhorns will take on Magdalena in the quarterfinals of the 8-man football playoffs this weekend.