CIBOLA VOLLEYBALL FOCUSSED ON MOTIVATIONAL MESSAGE
What's one word to describe the Cibola High School volleyball team?
"I would say fun," said senior Abby Carlsen.
Teammate Logan Smith echoed that thought, "Our coach talks about it a lot and I would say fun."
"Fun!," said head coach Christina Norton.  "That's been my word since the summer, fun, all caps."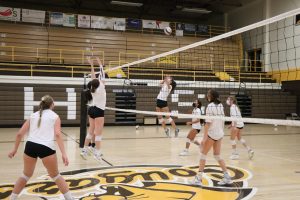 Winning is fun and that's something the Cougars have done a lot of lately.  One reason why is versatility. "We're very versatile," said Norton.  "Many of these kids can play multiple positions and that sets us apart."
"Even though we have two setters, other people know how to set," said senior Kayla Ison.  "When we are on the court, I like to tell everyone to put the ball in the air because everybody can set a ball, everybody can hit a ball and put it in the court.  I think it's exciting that everyone can do anything."
"We have a sophomore on the outside hitter, Janessa Leyba, she's pretty dang steady," said Norton.  "She gets the ball a lot and she can put it down."
The Cougars have a weekly theme, from championship mindset to energy to teamwork, it's different every week. "We do life themes every week and this week they chose consistency," said their head coach.
"It gives us something to focus on for each practice instead of just mindlessly going in and wondering what are we doing today," said Smith.
"They find a quote every day and one of the kids has a quote and she'll talk about it and why she chose it," said Norton.  "Then we will all talk about it and how it relates to life.  It's not just volleyball, it's how can this be better for us."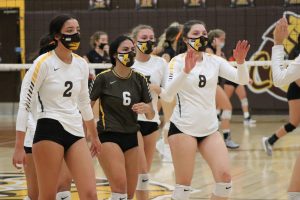 Along with a theme, the Cougars start every workout by 'Locking it In'. "It checks us into practice," explained Carlsen.  "Each time we say 'We're going to be district champs and we're going to be state champs, it's like we're manifesting it, getting ready to be the top team."
"We all have the idea in our heads that we need to win state this year and I think it's going to happen," said senior Maddy Saavedra.
"We don't always have perfect games, but if we're driven throughout the game and we really want it, we're going to get it because we work hard for every point and we're going to give it our all," said Ison.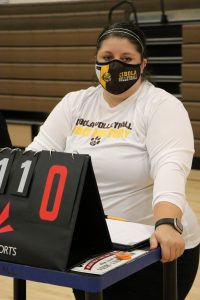 So, what is it going to take to win their first state volleyball championship since 2014? "Like our life theme this week, we just have to be consistent," said Carlsen.  "Consistency with our mentality, with our practice, just staying hard driven."
We'll find out in November if their positive thoughts and themes, energy and talent translate into a blue trophy.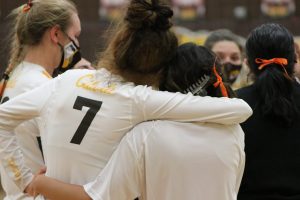 VIDEO STORY