THERE'S NO PLACE LIKE HOME FOR ARTESIA'S JEREMY MAUPIN
"It's great, there's nothing like being home," said Jeremy Maupin.
There's no place like home and Jeremy Maupin is now in charge of the football program at Artesia High School, the same place where he won a state championship. "My locker was right over there," Maupin pointed to his former spot in the Bulldog lockeroom. "It's kind of weird to walk back in and be in a different role in here."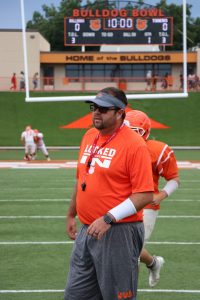 Maupin took over the Artesia Bulldogs this offseason after four years as a head coach in Los Lunas where he had back-to-back state championship appearances.  Maupin says he never envisioned coming back to Artesia as a head coach. "Honestly, I never really thought about it," said Maupin.  "Right before I took the Los Lunas job was the first time I thought I was ready to be a head coach.  The last Henderson was here for a long time, so I just assumed Rex (Henderson) would be here for a long time.  When it came open, it started to become 'Oh wow, maybe I have a shot at this thing'.  It was real exciting."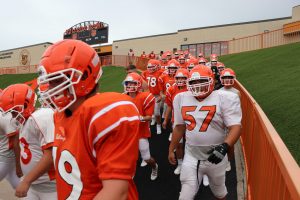 "I played here, and you look up and see Coach Henderson's name and his dad's name and Mike Phipps and you start thinking, 'Man, am I ready for this?'  You just get back to coaching football and realize football is football, no matter where you're coaching.  It's just making sure you get the best out of these kids."
He may be a new head coach for the program, but Maupin says the offense will look a lot like Artesia teams of the past. "I played for Coach Henderson, that's what I know, so it looks very similar," said Maupin.  "We're able to put a little different spin on some things and line up a little differently at times.  Hopefully, it's going to be good football and we're going to be disciplined and what's made Artesia famous."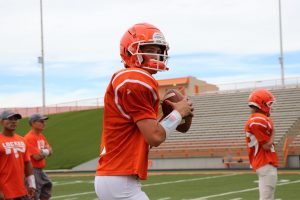 The Bulldogs return their two leading tacklers on defense and on offense running back Jake Barrera should put up good numbers. Lefty Nate Taylor is back from Texas to play quarterback for Artesia.
So, what are the expectations in year one? "It's Artesia, so we always want to be playing for a championship," said the head coach.  "We think we have a really good football team."
The last time Artesia lifted the blue trophy was 2017.