PIEDRA VISTA PANTHERS ON THE PROWL
The last time the High School State Golf Championships were held in New Mexico, the Piedra Vista Panthers carried the blue trophy home for the second year in a row.  That was 2019.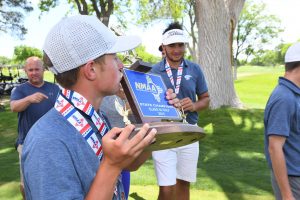 COVID-19 prevented the Panthers from a 2020 three-peat, but they will get their chance in 2021. "We've grown a lot as a team, and I think a lot of us are at our peak at the perfect time of the year," said Piedra Vista golfer Quinn Yost.  The junior shot a 65 on May 24th at the Panther Invitational at the San Juan Country Club in Farmington.  "I've been confident in my game and hopefully that will continue," said Yost.  Piedra Vista shot a team record one-over (285) at that same event.
"He's won a couple Sun Country events and recently took home top honors at the San Juan Country Club Championship," said his father and coach Tom Yost. "He's dialed in and ready to go."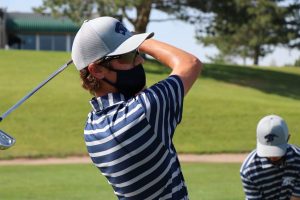 The Piedra Vista boys finished second at this week's District 2-5A Tournament, two strokes behind first place La Cueva.  The Piedra Vista girls won the district championship with a score of 328.  Piedra Vista senior Shandiin Harper earned medalist honors with a 77.  "I think my game is trending really well right now," said Harper. "My goal is to take home two state titles, one team and one individual.  I also not only want to be the number one 5A girl, but I want to have the best score out of all the districts."
"I think she wants to go out on top her senior year and deliver a message," said coach Tom Yost.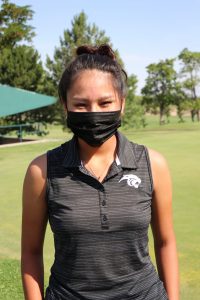 According to iWanamaker, the scoring system used this high school season, both Piedra Vista's boys and girls are number one in the team rankings. "If they play the way they're capable of playing, they should be able to take care of business," said their coach.
So, what will it take for both teams to lift the blue trophy on Monday?  "Probably survival," said Tom Yost.  "It's going to be long rounds and it's going to be really hot.  The kids will have to manage the heat and manage themselves and maintain their energy down the stretch."
"I'm so excited and happy that we are getting a state tournament, we are super privileged to be getting one," said Harper.
"It puts it in perspective to be grateful for things such as golf because when it's taken away from you, you can feel lost," said Quinn Yost.  "I'm super grateful to be back out here and compete for another state title."