CLOUDCROFT'S AJIA HUGHES HOPING TO END HIGH SCHOOL CAREER WITH MORE HARDWARE
If you're looking for someone to watch at this year's Western Sky Community Care State Track and Field Championships, keep your eyes on Cloudcroft High School senior Ajia Hughes.  If past state meets are any indication, chances are good she will do something special.
In 2019, Hughes was the high-point finisher for the second straight year.  As a sophomore, Hughes finished first in the triple jump with a new state record of 38'11", passing the old mark by more than a foot!  That year, Hughes also won the high jump (5'4") and anchored their winning 4x400m relay team (4:20.98).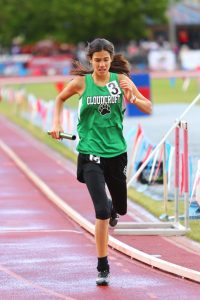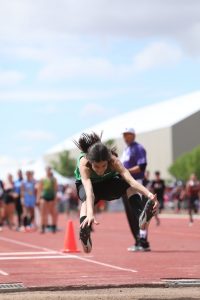 "From that year, I remember I did the high jump, but I was sad I didn't get as high as I wanted," she recalled.  "In the long jump, I wasn't expecting to get second at all. That was just my second time doing that ever. Then in the 4×4 I was just thrown in and we won."
Her junior year, Hughes was hoping to improve on those marks, but the pandemic put a stop to the entire season.  "As soon as I went on that track to start my junior season, I thought to myself 'This year is going to be great, I'm going to break records!' Then everything was taken away and I was so sad. All I could do is hope to do better the next year."
Next year is now, her senior season.
Hughes is scheduled to compete in the high jump, triple jump, long jump, as well as the 100-meter and 300-meter hurdles.  Hughes has the top qualifying marks in four of those five events.  She posted the fastest seed time in the 100-meter hurdles (16.49).  Hughes is also the top qualifier in the long jump (19'9.25"), more than a foot better than anyone else. Her seed mark of 38-feet in the triple jump is more than 4-and-a-half feet better than the next closest competitor and her mark of 5'8" in the high jump is already better than her winning mark in 2019 (and 8 inches higher than any other 2A girls this year).  She says training this season has been a challenge.  "My muscle memory has to recall from two years ago, not one," she said. "It's been rough.  So far, I've gotten back on track with my progress in the triple jump and high jump.  The 100-yard hurdles has been more of a challenge.  I'm still struggling with it, especially with a mask and trying to adjust to it."
Hughes is striving to break her own record in the triple jump and improve on her high jump marks.  "I would love to hit 40 feet in the triple and 6 feet in the high jump," she said.
"This year, I thought I need to double my standards and get further than I ever wanted. Training has been hectic this year.  All the seasons collided with one another because of COVID.
The biggest difference was training for volleyball and then we went straight into track."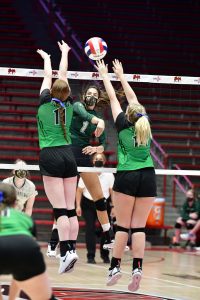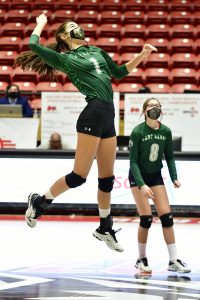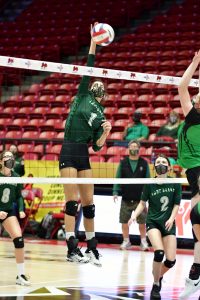 Volleyball traditionally is played in the fall, but the season was moved to later in the school year because of COVID-19. In March, Hughes helped Cloudcroft win the school's first-ever state volleyball championship.  The Bears beat six-time state champ Texico High School, capping off the perfect season.  "That was unbelievable since we were undefeated the whole season," said Hughes.  "I was not expecting it to end that way.  We pulled through and got our first for the school. It feels really good, I hope we'll be remembered years from now."
Hughes will attend Southern Utah University in the fall to compete in track. She hopes to cement her legacy in high school even more this week.
The Class 2A Western Sky Community Care State Track & Field Championships take place on Friday.