SUBWAY STUDENT SPOTLIGHT: BRIANA MARQUEZ, WEST LAS VEGAS HIGH SCHOOL
West Las Vegas High School senior Briana Marquez holds the New Mexico High School State Record for most assists in one basketball game, which is fitting since giving is second nature to her.
The pandemic may have prevented her from participating in athletics year-round, but she still finds a way to help out her community.  "Since the pandemic started, I've been doing social distanced community service," Marquez said.  "It started with little projects, going to the store for elderly neighbors or taking out their trash. Now, it's making Thank You cards for health care workers. During Christmas, we made gingerbread houses for local businesses. We also made cards for kids at St. Jude's Hospital."
Marquez is also the Key Club webmaster, serves as the National Honors Society treasurer, participates in the Dream Makers program and also volunteers to help out with her high school yearbook.  "I noticed they only had nine students," she said.  "I just think it's important to be involved in my community and take all the opportunities I can. With Dream Makers and yearbook, why not take advantage of what I have? As a student-athlete, you have to learn to balance your time. I want to go through high school not just being known for sports."
But sports are something she IS known for.
Marquez lettered in five different sports at West Las Vegas High School: one year of volleyball, one season with track and field, two years of cross country, four years of soccer, AND she's played basketball since the 8th grade.  Make no mistake, even though she participates in almost every sport possible, basketball is her first love.  "I started to fall in love with the game in the second grade. We had a team in the league here in town and, around tournament time, we turned it up and won the tournament. I thought to myself, 'I think I'm meant for this.' It was the competitiveness of the game.  I decided this is what I want to do growing up, I want this to be a part of my life."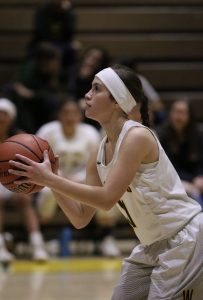 *photo courtesy West Las Vegas High School
Briana averaged over 18 points and 6 assists a game her junior season.  She recently signed a National Letter of Intent to play basketball at Oklahoma Panhandle State University.  "I had a few different offers, but it came down to the location of the school and my relationship with their head coach and assistant," she explained.  "I wanted to be close to home, but still spread my wings and try something new. It's only four hours from my hometown."
Marquez maintains a 3.8 GPA and also wants to help others with their grades as the student representative of the 'D-Policy Committee'.  "We want to try to rebrand it to make it a positive reinforcement rather than a negative punishment," she said.  Her career goal is to eventually be a physical therapist or pharmacist. "I want to major in Biology because it's diverse, I can also explore other things too."
Back to that state record.
On March 10, 2020, West Las Vegas was playing Hatch Valley in the quarterfinals of the basketball state tournament.  Briana recorded a state record 14 assists in that game. "I remember being in the moment," she recalled "I'm always a 'pass first' kind of player.  I'd rather get the assist than two points.  I didn't even know I got the record, I was just playing and doing what the game gave me."
Briana says her dad instilled this work ethic in her at an early age.  "Growing up, my dad had this motto," she explained.  "He told me 'It's always about heart, hustle and attitude'. If you put your mind to it and have a good attitude, you're going to be successful."
Sounds like a recipe for success.