SUBWAY STUDENT SPOTLIGHT: JONATHAN CROKER, VALENCIA HIGH SCHOOL
Jonathon Croker is a junior at Valencia High School.  He's a multisport athlete, gets good grades, and just landed a very prestigious spot among other bright young adults in the country.  Croker was named a Delegate to the Congress of Future Medical Leaders on March 20th and 21st.
"I'm really excited about the opportunity," said Croker.  The Congress is an honors-only program for high school students who want to become physicians or go into medical research fields.  The purpose of the event is to honor, inspire, motivate and direct the top students in the country interested in these careers and provide a path, plan and resources to help them reach their goal.
"My goal is to pursue a career in biomedical engineering," he said.  Jonathan is very interested in prosthetics and medical robots.  "I really enjoy making things and thought it would be a great idea to do that for a living."
He found out about his nomination over the Christmas break.  "A few days before Christmas, we were preparing stuff for dinner and got this big packet from Harvard," he said. "It was shocking, I didn't expect it. I was mostly silent at first and then thought 'Oh wow, this is real, this is happening!'"
At this year's virtual conference, Jonathan will hear Nobel Laureates and National Medal of Science Winners talk about leading medical research. Jonathan will also be given advice from Ivy League and top medical school deans on what to expect in medical school.
Jonathan's passion for prosthetics started to develop a couple years ago.  "It was probably my freshman year," he recalled.  "I was learning about a robotics program in high school. I went in and kept doing research and thought it was a good fit, something I would enjoy."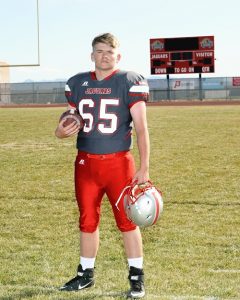 Jonathan is a student with a 4.0 grade point average.  He also participated in football, wrestling, and track and field.  "Athletics opened me up to a leadership role," he said.  "Practicing and scheduling helped me develop a good work ethic that I would like to keep in place."
Jonathan earned his nomination based on his academic achievement, leadership potential and determination to serve humanity in the field of medicine. "Focused, bright, determined students like Jonathan Croker are our future and he deserves all the mentoring and guidance we can give him," it read in a press release from the National Academy of Future Physicians.