NEW MEXICANS REMEMBER HALL OF FAME COACH MARV SANDERS
One of the winningest high school basketball coaches in New Mexico history has passed away.  Four-time state champion coach Marv Sanders died in late December following a lengthy battle with Parkinson's disease.
"You can't talk about the history of basketball in New Mexico without Marv Sanders," said New Mexico Activities Association Executive Director Sally Marquez.  "He left a lasting impact on this state and he will forever be remembered and respected."
Sanders is the fourth winningest high school boys basketball coach in New Mexico history. He won 787 games as a boys basketball head coach in Farmington, Portales, Silver, Hatch and Mentone, Indiana.  Sanders retired following the 2003 season, but returned to coach the Capitan High School girls basketball team from 2006-2012.
According to The Farmington Daily Times, Sanders notched his 800th career win with a 50-31 victory over Coronado on Nov. 30, 2007. According to the Capitan's MaxPreps page, the team added 12 more wins in the 2007-08 season to bring his win total to 812, then combined for 52 wins during the next four seasons to bring Sanders' overall win total to 864 in both boys and girls divisions.
Sanders spent a majority of his time on the court in the Four Corners where he coached at Farmington High School from 1980 to 2003.  During his 23-year career with the Scorpions, he won a pair of State Championships in 1982 and 1986.  Overall, Sanders won state titles at three different schools in three different classifications: Hatch Valley (1964), Silver (1975) and Farmington (1982, '86). The titles at Silver and Hatch were the first the two programs had ever won and his '82 championship team went undefeated with a 26-0 record.  Sanders also reached the state finals in 1972 with Silver, 1979 with Lovington, and 2003 with Farmington.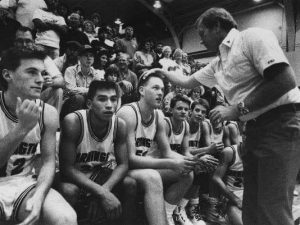 Farmington High School posted a message of sorrow on their Facebook page. "Although a few words here are so inadequate when compared to the influence Coach Sanders had on the lives of so many, let us try and say 'Thank you, Coach'…he touched the lives of so many young men and ingrained ideals of hard work, fair play and determination into all those whom he coached."
"There will never be another Marv Sanders," said Farmington High School Athletic Director Stephanie Jaquez. "He was a man of intensity, grace, and honor. His influence and standards expected from his athletes off the court far surpassed those on the court. He was the perpetual teacher of life."
Hall of Fame basketball coach Pete Shock was an assistant for three years under Sanders at Silver High School.  "We hear about someone that does something 24/7, Marv was 25/8," said Shock.  "Basketball 25 hours a day, eight days a week.  He loved to fish and play golf, but he'd always think basketball. He was the ultimate competitor, always preparing for the next game or next season. He was a master at making adjustments, his players trusted him."
Sanders was inducted into the New Mexico High School Coaches Association Hall of Honor in 1991.  In addition, the 1960 Western New Mexico University graduate was inducted into their Hall of Fame in 2000.  And In 2015, he was inducted into the New Mexico Sports Hall of Fame after a 50-year coaching career.
"The year 2020 and the pandemic has made clear the power of a high school coach to impact high school athletes in ways beyond the game; Coach Marv Sanders was a true education-based coach," said NMHSCA Executive Director Buster Mabrey.  "He was a great coach on the court, but more importantly is impact on New Mexico's kids is immeasurable."