KIANA WITH A K: A STATE RECORD HOLDER'S COMEBACK STORY
*photo courtesy Yellowhair Photography
23 strikeouts in one game.
It's only happened once in the history of New Mexico high school softball.  Gallup High School's Kiana Spencer is the one responsible for that state record mark.  "I think I was in shock because I never had that many strikeouts before," Kiana recalls.
It was May 16th, 2013 at the State Softball Championships.  Gallup was facing Bernalillo for their second game of the day.  "I have a couple of friends that played for Bernalillo, so going into that game I was super excited and pumped to be playing against them because I always played with them," Kiana said.  "That year we had a lot of seniors on the Gallup roster and I was just a sophomore. I wanted to pitch really well for my team.  I remember going into that game that my mentality was just to have fun."
One batter after another, Kiana began to rack up strikeout after strikeout. Some of her recorded Ks were teammates from a club squad.  "I remember when they came up to bat, we'd give each other a little smirk," Kiana remembers. "Personally, as a pitcher, I wanted to strikeout my old teammates.  It's awkward, but at the same time you gotta do what you gotta do," she joked.
When the game ended, Kiana finished with a state record 23 strikeouts in an extra inning 3-1 victory over Bernalillo.  A year earlier, as a freshman, Kiana had tied the previous state record with 19 strikeouts in one game on March 24, 2012 against Farmington High School at a tournament in Rio Rancho.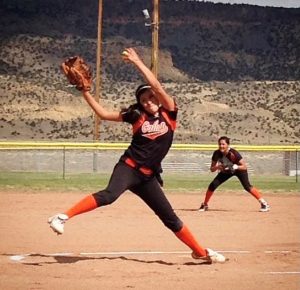 Kiana's record setting performances were two of the highlights on an impressive resume that almost came to a screeching halt.  Following her senior season with Gallup High School, Kiana played in the North-South All-Star games in Farmington.  On her car ride back to Gallup, Kiana's family was involved in a serious accident along the highway.
"I was sleeping in the car and suddenly I heard my mom scream and I woke up to see a red car hit us," Kiana described.  "I ended up breaking my left ankle and broke three metatarsals in my right foot and had to get surgery right away.  The scariest thing was, right after the accident, I couldn't move my left arm and that freaked me out. I thought it was broken, I thought I was done and wouldn't play again."
Kiana was scheduled to go to college and play softball in a couple months.  Instead of preparing for her freshman season, she spent that summer in a wheelchair.  Paradise Valley Community College in Phoenix still honored Kiana's scholarship.  She moved to Arizona in August and was cleared to play in September.  "That's when I first started walking without crutches or a boot," she described.  "I did a lot of physical therapy and they cleared me, but I wasn't ready to play the full season. I wasn't 100 percent and I took that year off."
Kiana realized the Paradise Valley program wasn't the right fit for her, so she transferred to Yavapai College in Prescott, Arizona.  "During my visit to Yavapai, I had only been pitching for two weeks, but they still gave me a full ride," she said.  Her first year of pitching in college was an adjustment.  "My freshman year was my first official year back," she said.  "I was the third string pitcher going in, it was different.  In high school I was the ace, but my freshman season in college I didn't think I would get playing time. I talked to my dad and he told me I have to prove myself."
Kiana said she got her opportunity to prove herself once the conference season started.  "We were playing against one of the top teams in our conference and my coach decided to start me.  We were number one, they were number two in conference, I pitched well and he kept me in there."
That year, Kiana appeared in 28 games, starting in 22, and went 20-1 while registering one save. She completed the season with a 1.55 ERA, 86 strikeouts and was named a 2017 Second Team JUCO All-American, along with 1st team All-Region and All-Conference honors.  "I was surprised at the end of that season, I didn't even know what an ERA was," she joked. "At the end of the season I got all these awards and I was not expecting any of that. It was a long journey from a wheelchair to getting to play again, I thought I might never play again. I thought my career was over, but with the support of my family and a lot a physical therapy I was able to make it back."
Her sophomore season at Yavapai was impressive as well.  Kiana appeared in 29 games, starting in 21 of them, threw 92 strikeouts and recorded four shutouts.  Other colleges were starting to notice.
"At the end of my freshman year, we made a skills video and our coaches sent them out to all different schools our sophomore year," Kiana said. "I remember the first day they sent them out, 10 minutes later I got 10 phone calls, 20 text messages, it was overwhelming! I had a list of schools I wanted to go to, and the University of New Mexico was on that list. I sent them an email with my video and stats and they replied to me that same day and wanted me to come for a visit.  I wanted to play in my home state my last two years and finish my career in New Mexico."
Kiana returned home to the Land of Enchantment.  "Coming from Gallup, a small town, being able to play for my home state has been a dream come true."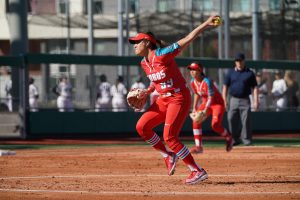 *photos courtesy UNM Athletics
In 2019 at UNM, Kiana appeared in 33 games, starting in 23, throwing 11 complete games and two shutouts.  She recorded at least one strikeout in 23 games.  Because of COVID-19, Kiana's 2020 season was cut short.  But she still managed to appear in 15 games, throwing a team-high three complete games and led the Lobos pitching staff with a 7-3 record.  "My teammates, my coaches, they've really helped me become the player I am today," she said. "I think over the years I changed my pitching style.  In high school I threw a lot of strikes, threw pretty hard, but when I got into college I became a movement pitcher."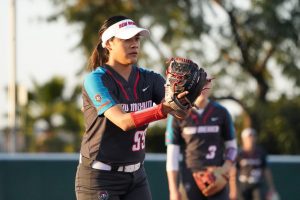 Kiana may have slightly switched her pitching style, but one thing that hasn't changed over the years is her high school record of 23 strikeouts in one game.  Kiana admits that performance is probably the highlight of her high school resume, but it's not the only lasting image.  "Creating so many memories is the best part of my high school career," she said.  "It feels nice to have that mark, but I don't take with me the accomplishments. The thing I take away is the memories of my coaches and teammates."