LIFE LESSONS SPORTS TEACHES US
Now more than ever, we are reminded how many life lessons can be taught by participating in sports.  Coaches are teachers that can lead others in lessons such as how to stay positive, how to overcome adversity, how to work together for a common purpose, how to be resilient and how to be there for others.  Achieving goals and overcoming obstacles can help teens persevere in uncertain times like these.  Students can find a sense of belonging and accomplishment through individual sports and team dynamics.
Sports are symbolic of life.  Life requires teamwork, discipline, resiliency, respect, compassion, and character.  Sports can develop those skills to apply on the playing field and in their life.
We recently spoke with several different coaches from all over New Mexico, in a variety of sports, about the importance of sports and the lessons it can teach.
Commitment
For coaches, sports are an extension of the classroom.  They encourage their athletes to always do their best on the field, in the classroom, and in life.  Champions can be determined by their commitment to goals.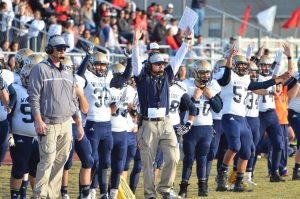 "I remember a conversation with a former athlete of mine and they were contemplating dropping out of college.  Then this person told me, 'Coach, I thought to myself that is not who I am.  I never quit! I will fight to the end!' I was never more proud as a coach and, yes, he graduated!" -Ryan Galindo, Carlsbad High School Tennis
Self-Discipline
Tough times don't last, but tough people do.  It's a saying coaches are used to preaching.  Get up when you get knocked down.  The self-discipline taught in sports allows a person to thrive in life with a work ethic to improve.  Self-discipline spills over into every aspect of life and is a highly common trait among successful people.
"For me, the example that resonates over and over is that of the kid with a less than optimal home life. A kid that doesn't have the nice clothes, fancy shoes, or even a car to drive to school. This specific kid has every excuse to 'not make it' and no one would judge him for that. Yet, he decides to get involved in sports and realizes that dreams can come true through hard work and determination. Through the experiences and lessons learned in sports, new things are possible and maybe even attainable with the right mindset. Goals can be reached regardless of where you begin. Success can be achieved at any level if the proper self-discipline and work ethic are put in place. This example happens very often. A player falls in love with a sport, a coach, or a program and it drastically changes their attitude towards life and propels them to seek a future that once wasn't an option for them.  I guess this life lesson can be summed up in one word that sports can provide… HOPE. Players need HOPE." -Heath Ridenour, Sue V. Cleveland High School Football
Mental Toughness
Sports can teach a person to be strong in body and mind.  Athletes learn to push their bodies beyond what they ever believed they could to achieve their goal.  Whether it's in practice or competition, a person can learn to overcome adversity they may not have faced without sports.
"The life-lesson I learned through volleyball came my Junior season in college when I tore my ACL & MCL during a spring workout.  Volleyball was my life, my days revolved around the game and my teammates.  I was devastated.  However, through this injury and set back I learned what mental and physical toughness truly meant.  My rehab took 9 months, many hours a day, was very painful and caused separation from my teammates.  Nevertheless, it taught me so much about what I was really made of.  The injury helped me develop a stronger faith in God, established new friends outside the game and led me to other passions as well as volleyball.  I came back to the game stronger and a more complete player.  I now use my injury every time a player in our program is injured…because, I lived it as well." -Kristen Scanlan, Texico High School Volleyball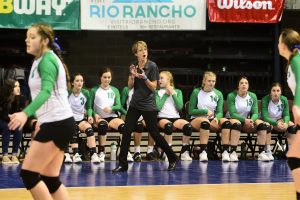 Learning To Work With Others
Everyone doesn't come from the same place.  Everyone has different skills and talents to contribute, but everyone has value.  Athletes learn quickly that a team can achieve success when everyone contributes.  Through collective hard work, kids learn to contribute to a greater good.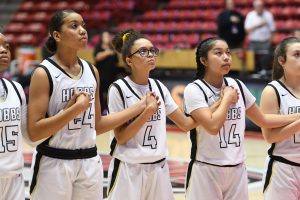 "I had a young lady from our program who authored 'How to Survive Piedra Vista Softball: A guide by the 2016 Varsity Team'.  I opened it up and read it again and, as always, got choked up on some of the things the girls wrote." -Kevin Werth, Piedra Vista High School Softball
Sample from the Guide
"I want everyone in this program to know the joy of a hard-fought win, and also learn how to be gracious in defeat. I want everyone in the program to understand that adversity is inevitable, but that doesn't mean you still can't kick its butt. I want everyone in the program to believe in themselves and each other." -Haley Parson
"Probably just knowing that there's going to be a next pitch coming, there's going to be another day to come, that things are going to get better no matter what." – Katie Jensen
Try to gain respect by giving respect the best you can, and love your teammates." – Tyra Garcia
Teamwork
Sacrificing one's personal gain for the better of the group is a lesson taught in all team sports.  Athletes understand how they can best contribute using their strengths. Together Everyone Achieves More (T.E.A.M.).  Players learn quickly that their best chance at success will be through cooperation with the teammates.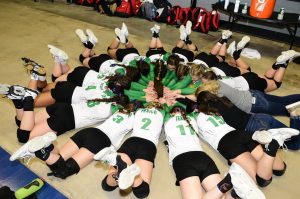 "I had a young man back in 2001 by the name of Phil Sakala who had won the 800 meters and 1600 meters at the State Track Meet.  He was favored to win the 3200 meters the next day and become one the first distance runners to sweep all three distance events.  My 800-meter anchor leg, Frank Hemingway, in the Medley Relay developed a stress fracture in the prelims and could not run the Medley in the finals the next day.  I spoke with Phil that night explaining to him that I know he has a chance of becoming a state champion in all three distance events, but we really need him to anchor our Medley since we had no other backup 800-meter runner.  The next day, Phil sacrificed his personal individual 3200-meter opportunity for the principle of teamwork and he anchored our Medley relay to a state champion finish. Phil was quoted in our local paper as saying 'I just helped three of my best friends win a state title'.  Phil went on to attend and graduate from the West Point Academy where today he carries a rank of Major continuing to apply the concept of teamwork, leading soldiers in military endeavors." –David Nunez, Onate High School Track and Field
Handling Fear and Failure
Whether it's striking out, making an error, or just losing a game, failures happen in sports as well as life.  Learning that not everyone gets to win can be a valuable lesson in someone's early development.  Life isn't always fair.  Injuries happen, calls are missed.  Players learn that getting angry or frustrated doesn't always help and can affect their performance.  Losing with dignity is just as important as winning with class. A person can find success after learning from their failures.
"I try to give as many life lessons through the game of baseball.  I think sports closely parallels everyday life and the lessons you learn on the field can be applied to successful living.  We teach kids to deal with frustration, controlling their emotions and adjusting to change.  By playing sports you can learn maturity, honesty, loyalty, and patience." -Gil Padilla, Las Cruces High School Baseball
Resilience
Not everything always goes according to plan.  Sometimes you get thrown a curveball at the plate, and in life.  Athletes need to know how to bounce back.  It's ok to make a mistake, but how you come back from the setback will define you.
"The biggest life lesson that I have learned as a coach is that the sun will come up the next day.  No matter the outcome of the day, process it, learn from it and make the best of the next day that has been given to you.  Bad things are going to happen as a competitor and as a coach; how you react to those bad things are ultimately going to shape and mold you into the person you are." -Evan Copeland, Cleveland High School Wrestling
Goal Setting
Setting a goal in place and finding a way to accomplish that goal in the face of adversity is a useful skill.  After setting a goal, an athlete knows to work hard to reach it.  That goal can be a motivator for improvement.
"The best example I can think of was when our golf team played in the 2017 NMAA State Championship in Roswell.  Our boys team put in the work all year and gotten their brains beat in by Cleveland High School, which was the best team in the state by far.  The boys played with poise and a 'no-fear' attitude and ended up winning the tournament by 8 shots…until they didn't.  One of our players got disqualified for signing an incorrect scorecard and we ended up losing by 3 shots instead of winning the school's first blue trophy in boys golf.  The team had to juggle an emotional roller coaster of the highest high and the lowest low and also console a devastated teammate.  The boys not only handled it with grace, but also put together a plan on the bus ride home to start preparing the very next day for 2018. They named the season 'The Redemption Tour' and ended up working harder than this coach thought was possible.  In 2018, they left no doubt in winning their first ever state championship at Pinon Hills Golf Course.  I have never seen a group of boys handle adversity of that magnitude and then channel their emotions into a positive goal for the next year.  It truly was a story of redemption and it was quite a journey as a coach…and one I will never forget!" -Tom Yost, Piedra Vista High School Golf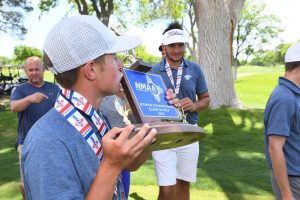 Time Management
Being a successful athlete takes a lot of dedication, but it also takes a lot of time.  Athletes have to juggle their time between school, practice, and sometimes a job.  Being on a team can be a job in itself.  Sports teaches a person how to organize, prioritize, and focus on the importance of academics.  Athletes know what they need to do and when to do it.
"I had a student-athlete that wasn't living up to the expectations of our volleyball team and herself. As a result, she did not attend a week-long summer trip/team camp as an upperclassman, and it definitely sent a message to the player. Years later, and after college, the player contacted me and said 'Thank you, coach. That was an experience that changed my life for the better, I owe a lot to you coach. My path to be successful began with the expectations/discipline that you provided a young kid.'" -Toby Mananares, Rio Rancho High School Volleyball
Dedication
Every athletic season has a beginning and an end.  Coaches preach to their kids to finish what you start.  It's one of the foundations of sport.  Everyone wants to quit at some point, but dedication to improvement and becoming the best you can be is what keeps the athlete going.
"Sometimes my kids don't understand why I get on them for being 'a few minutes late to practice'.  But in life, 'a few minutes late' here and there can cost you a job or an opportunity.  Life is about dedicating and committing yourself to something you believe in and giving yourself to that belief even when it is hard and isn't maybe always going your way.  You don't quit, you keep moving and giving everything you have." -Stacy Salinas, Rio Rancho/Sue V. Cleveland Swimming
Overcoming Adversity
In sports, there are hurdles to get over, much like in life.  Sometimes things can surprise you or catch you off guard.  They say life is not about what happens to you, but how you deal with it.
"I had a player who lost both his parents.  He lost his mom when he was 5 and dad when he was 15.  This young man had several offers from families to move in with them, but he was a very proud young man and refused.  Well, he was able to find housing and remained in the school district and on the team.  The year after his dad died, he had many ups and downs but fought his way through it as he had a lot of support from friends, families, and coaches.  This young man ended up contributing to 3 Cross Country Championships, 1 State Track Championship, and 2 State Basketball Championships.  He more than overcame his adversity!" -Ira Harge, Espanola High School Athletic Director
Perseverance
Having the tenacity and determination to accomplish something despite the level of difficulty doesn't just apply to student-athletes, sports can teach the same perseverance to coaches too.  Fight through it, don't run from a situation when adversity strikes.  There will be setbacks.  There will be obstacles, but success doesn't happen overnight.
"There was a girl who I coached almost 15 years ago, she was a good player, and was starting at the beginning of the year. But through the end of September, she could not keep her breath and was having a hard time running.  Well, she went to the doctor and they could not find out what was wrong, but she was not getting any better.  She was so loyal to the team, never missed practice and was at every game. Even her senior year she still was around for everything, but would get sick quite often and had a hard time playing, but we kept a great relationship through all this.  She went off to college and we always would meet when she came back into town. We talked life lessons each time, and each time she said how playing soccer taught her so much. She now has a wonderful professional job in New York City and what she has learned through sports has helped her with everything she has accomplished in her professional life.  She still gets sick and has a hard time with her heath, but she never gave up and always pushed forward. Sports teaches you things like that." -Amber Ashcraft, La Cueva High School Soccer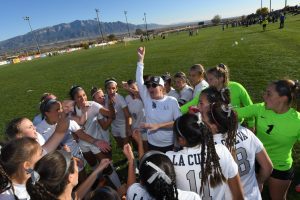 Patience
Winning takes time.  Championship teams aren't built overnight.  In sports you have a coach and in life you have a boss.  You learn to take instruction, develop patience and become a member of a team.
"I tell my players that when we do something, we do it right and we do it that way every time.  I give our players and parents a booklet every year.  It talks about how to perform under pressure.  They understand that the role of discipline and self-sacrifice play an important part of being successful.  Experiencing the pains of commitment and the thrill and joy of success is an integral part of being a basketball player; those same feelings that will be experienced in the real world." -Marty Zeller, Los Lunas High School Girls Basketball, 41 Years of Coaching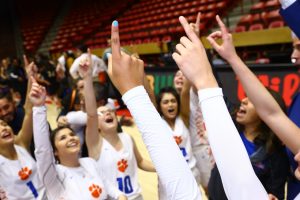 Respect
Athletes must respect their coaches, officials, teammates, and their opponent.  It is important to recognize the worth of another.
"As an athlete, I think the biggest thing I gained was confidence to pursue. I learned how to set my sights on something and be willing to put in the work even if I had underlying doubts.  It's the idea of relentlessly putting one foot in front of the other, even when things get hard.  Along with that came an ability to give to and receive from others in a collective effort." -Kathy Hipwood, Los Alamos High School Cross Country
Integrity
Morals and ethics come into play every day in sports.  Honesty and adherence to the rules is a foundation of every game. Many coaches will tell you that with some athletes it takes time and patience for them to realize their self-worth and value, but people can develop into some of the strongest members of their team when they realize there are no short cuts.
"My suggestions are to smile when the headwind makes us work harder, laugh when we fall down bleeding, and never let anyone else control our emotions." -Tim Host, ATC Cross Country
Responsibility
Taking accountability is a major characteristic of successful student athletes. Participating in sports brings many obligations, to your teammates, to your coach,  and to your academics.
"I had a athlete that started wrestling his sophomore year with no prior experience. He was failing in school and was ineligible to compete. His junior year, he was 2.8 GPA student with a less than .500 win percentage. His senior year, he was a 3.4 GPA student and made the state finials! I believe the lessons he learned on the mat has transformed him to the man he is today, being a highly well-respected police officer." -Nate Sellers, Miyamura High School Wrestling
Compassion
Athletes can learn about caring for another as their coach cares for them.  Young adults can witness, first hand, the sympathy and care for the suffering of others.  Coaches themselves can relate to another's pain because it's something they might have gone through themselves at one time.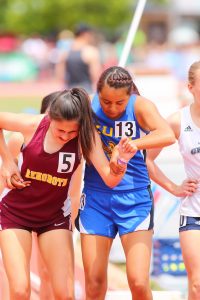 "The one incident that stands out to me was a life-long lesson learned by one of my athletes that decided they were going to run away from home with their significant other as a sophomore in high school.  The couple had purchased bus tickets, and this athlete informed their grandparents they were living with, that they were leaving.  The athlete was begged to stay and of course did not.  The grandmother called me in the middle of the night begging me to talk to this individual as the departure time was getting closer.  At first I was hesitant, but then I thought – 'what if this was my kid doing this and I had the confidence in their coach to try and assist during this time of need?'  So, of course, I jumped in the car and headed to the bus station. By the time I arrived, my athlete was on the bus, the grandmother was crying in the parking lot and I was thinking to myself – 'What am I going to be able to say to change their mind?'  I boarded the bus, looked my athlete in the eye and explained how disappointed I was that they could disrespect their grandmother like this, disrespect themselves and let their teammates down.  The responsibility/commitment they made when becoming a part of the team was just about to be broken.  I cried, they cried….we talked about feelings, respect, etc., and just as the time for departure arrived, the athlete grabbed their belongings and got off the bus.  At this point, I don't know who cried more…me, the athlete or the grandmother.  This event that happened was unfortunate, however, I believe the athlete learned some very valuable life lessons, as did I, having children of my own.  This individual had a very successful high school career both on and off the court and went on to play at the next level on a scholarship, graduated from college, married and has 3 beautiful children.  To me, this is what coaching is all about." -George Maya, Mayfield High School Girls Basketball, 37 Years of Coaching
Dream Big, Anything Is Possible
At all levels, sports have given us memorable moments when we say 'I can't believe that just happened!'  Athletes think about what they want and forget all the reasons why it can't become a reality.  They work hard to make their dreams come true.  If you believe it, you can achieve it.
"I had a student athlete who happened to have down syndrome.  She was on the dance team all 4 years of high school.  She participated in everything but competition.  Every year she would put on her uniform and get hair and makeup done for State.  She would join me up front and cheer on the team.  Her senior year, this young lady got to do the one thing left undone.  She walked down the ramp and this time her teammates joined me upfront and cheered her on as she performed on the PIT floor in front of 15,000 people.  I hope the lesson learned by my team and others, is that nothing is impossible.  We can all achieve our dreams, and maybe help someone else achieve theirs." -Nicole List, Cheer/Dance Coach
All of those lessons we learn from competing.  We haven't even touched on how sports can teach loyalty, leadership, and maturity. Sometimes self-improvement can't be measured in wins, losses, time or distance.  Self-improvement is connected to one's determination in the face of unexpected obstacles.
I'd like to finish with this thought.  Adversity is a part of life. Never quit.  That's the lesson Heath Ridenour says sports taught him, both as a player and a coach.  "Find the light amidst the darkness," he reminds others.  "Overwhelm the negative thought with a positive action.  Choose to wake up and win every single day.  This applies to athletics, but it is 100% relevant in every aspect of life as well."
Spoken like a true coach.