"DREAM BIG"-GERINA MENDOZA PILLER, LPGA GOLFER AND FORMER GODDARD HIGH SCHOOL STANDOUT
The New Mexico High School sports landscape has produced some accomplished athletes: Brian Urlacher, Notah Begay, Tommy McDonald, Shelia Burrell, Ralph Kiner, Duane Ward, Cody Ross and Jim Everett, just to name a few.  Roswell native Gerina Mendoza Piller hopes to put her name in the same circle as golfers Nancy Lopez, Kathy Whitworth and Rosie Jones when it comes to top female golfers to come from the Land of Enchantment and win on tour.
Gerina was born in Roswell, attended Goddard High School, and is in the 10th year of her career on the LPGA Tour.  "I've always wanted to be a professional athlete before golf was even in the picture," Gerina said.  "I thought I was going to be the first girl in Major League Baseball or the first NFL female kicker."
The NFL's loss turned out to be golf's gain.
Gerina picked up the game of golf as a teenager.  "I started when I was 15 years old," she recalls.  "I grew up playing Little League baseball with the guys.  We had a baseball tournament where a couple wanted to teach me the game of golf.  My grandparents bought me a set of clubs.  The couple never called and the golf clubs just sat there."
Gerina was too involved at school to pick up another set of sticks.  She was a cheerleader, played soccer, volleyball and ran track.  Then it came time to choose.  "When I was going into high school, my parents said 'You can't play everything'," Gerina said.  "I knew I was going to play volleyball.  My dad suggested, 'Why don't you play golf? We have these clubs.'  He said, 'It's kind of like baseball' and he showed me the gist of playing golf," she added.
The first time Gerina played a round of golf, she shot a 72…for 9 holes.  "I didn't know if that was good or not," she said.  "I was reading the newspaper and a girl won a golf tournament who shot 72 and I thought I was pretty good. My dad said, 'That was 18 holes.' I knew I had to practice."
Bye, Bye Baseball; Hello Golf.
"I worked my tail off," Gerina said.  "I told myself, I'm 5'6"-nothing and I'm not going to go to college on a volleyball scholarship."  Gerina played team sports her entire life, but the individual aspect of golf drew her to the fairway.  "No matter how much you try to perfect the game, it's impossible," she said.
Perfection might be impossible, but succeeding wasn't.  Through repetition and rounds of golf, Gerina became one of the top high school golfers in the state.  In 2001, she finished third individually at the state golf championships.  As a junior in 2002, she finished runner-up.  Her improvement continued into her senior season in 2003 when Gerina won the individual state title. "It's a little different when you play for a team in high school and college, there's no leaderboard," she said.  "You just have to go out and try to shoot as low as you can and hope that it's good enough. If you take care of the process, the results will take care of itself. Our team was really good; we had some great players. Our team was so stacked it was like you are playing against your own teammates for first."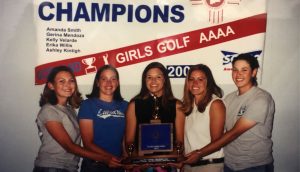 "Most sports came easy to me, but golf requires a whole lot of work," she said. "With volleyball and other team sports you have a winner and loser. Technically, with golf, there's one winner and 143 losers. At the same time, you can finish second and feel like you had a winning performance. It's all you and very mental and, most importantly, a game I can teach my son one day and play as a family."
Despite success in high school, college recruiters weren't knocking down her door. "I wasn't recruited," she recalls. "My dad made VHS tapes with my swing, chipping and putting and sent them off to nearby colleges to try and get my name out that way."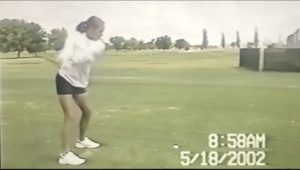 Gerina chose to play golf at UTEP.  "I wasn't number one when I got there and had to work hard to make the traveling squad," she said.  "I wanted the opportunity to play."  She made the most of her opportunities.
Getting better every year, Gerina won four tournaments her senior season at UTEP, including the conference championship.  She was the 2007 Conference USA Player of the Year and the UTEP Female Athlete of the Year.  That's when she decided, "I have this degree, I'm going to try and give this a go. Having that senior season gave me the confidence to try."
Gerina continued to grind and work her way onto the big stage.  She started on the Futures Tour and recorded seven top-10 finishes.  Her 5th place standing on the Futures Tour money list earned her full playing privileges on the LPGA Tour for 2011.
In 2016, Gerina posted three top-10 finishes out of the five LPGA major events.  But it's easy for her to pick out her biggest career accomplishment.  "Definitely, making the putt for the Solheim Cup," she quickly replied.
It was 2015, Gerina was playing on her second United States Solheim Cup Team against some of the best players in the world.  On the final day of competition, the Europeans needed only a half point to regain the cup.  Gerina was facing Caroline Masson and needed to make a 10-foot putt to defeat her opponent.  The 30-year old Piller knew exactly what was on the line.  She looked up and saw the scoreboard next to the green and knew she had to make the putt to prevent the Europeans from claiming that final half-point.  She stood over the putt and knocked it into the cup.  Gerina buried the most pressure-packed putt in the United States' dramatic comeback win.
"I wasn't always thought of as the best putter," she said looking back on that event. "I thought it was cool to be in that situation and not only give me that opportunity, but to know what was at stake and make the putt. It wasn't for myself, I was playing for my country, Stars and Stripes. I couldn't be more proud than to be an American and represent your country. I will take that to my grave. I always love watching it and it makes me cry because of all the hard work I put in, where I come from, just a small town in New Mexico."
Her advice to others trying to pursue a similar dream is to have a passion. "First off, enjoy what you're doing. I still enjoy golf, the process and the work.  You just never know what can happen. Dream big and follow those dreams, give 120 percent. You're only given one life and you have to go all in."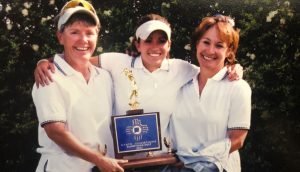 Gerina received plenty of advice along her career path, including some from New Mexico golfing legend Nancy Lopez, winner of 48 LPGA Tour events.  "I talk to her often," Gerina said. "She's amazing, she's a huge help. There are not enough words to say all the good things about her. She called me when I was on the mini tour and wanted to reach out and encourage me. I wanted to pick her brain and ask her how she did it. She talks about having that confidence. Her motto is 'Play Happy'. If you're not having fun, why are you doing it."
Like Lopez, Gerina's New Mexico roots haven't held her back from finding success as a professional.  "Where I'm from is a big part of who I am today," Gerina explained. "Hopefully, it encourages kids that aren't presented with the opportunities of others. There's no secret recipe for success. Just because I didn't have this or that doesn't mean I can't be successful. You have to work hard and control the things you can control. Being disciplined and having that drive to be better every day will help you achieve your goals."
Gerina has 38 career top 10's, but is still searching for her first win on the LPGA Tour.  Her goal is to simply get better every season.  "If I get better every year, I'll do pretty well.  I imagine my son being there on the 18th green when I win, that would be something."
With her drive, determination and attitude, Gerina will lift that first-place trophy.
*Gerina Piller will team up with Stacy Lewis on December 2nd to take on Sophia Popov and Mel Reid in a Solheim Cup-style showdown to earn $75,000 for Volunteers of America, a national, faith-based non-profit dedicated to helping those in need rebuild their lives. The VOA Classic Charity Challenge presented by Bullard Inc match will be held at Old American Golf Club in Texas and broadcast LIVE on Golf Channel from 2pm-4pm mountain time.