"I CAN BEAT THIS" – RC ROYBAL, ST. MICHAEL'S HIGH SCHOOL BASKETBALL PLAYER
About three months ago, RC Roybal wasn't feeling well.  The 15-year old basketball player from St. Michael's High School had a pain in his chest and ribs.  "It felt like I broke it, my collarbone too," he recalls.  "When I inhaled, my ribs hurt and I had trouble breathing."
RC went to the urgent care to get checked out.  "At first, they thought I had pneumonia," he said.  RC was sent home with some antibiotics, but the pain got worse.  After another trip to urgent care, he was eventually sent to University of New Mexico Hospital in Albuquerque. After an overnight stay, xrays, scans and more tests, the diagnosis came in.  The doctors discovered a cancerous mass growing in RC's rib cage.  They told RC he had a rare form of Sarcoma Cancer.
A sarcoma is a type of cancer that starts in tissues like bone or muscle.  This rare and aggressive type of cancer would turn RC's world upside down.  "It was shocking at first," RC said.  "Everything went downhill, it was a very depressing day."
Doctors told RC he would have to endure 11 weeks of chemotherapy to shrink the mass in his rib.  After that, RC would require surgery to remove the rib.  In mid-October, RC had a port installed in his chest for the chemo.  Doctors also had to extract bone marrow from his hip.
Now at the end of October, RC has already undergone a couple chemotherapy treatments.  "It's been rough, honestly," he said.  Instead of spending his days on the basketball court, RC will require more hospitals stays, shots, blood work and medical procedures.  In spite of this overwhelming circumstance a teenager has to deal with, RC doesn't let the cancer stop his dream of playing basketball again.  "It motivates me the most," he said.  "I want to get back on the court."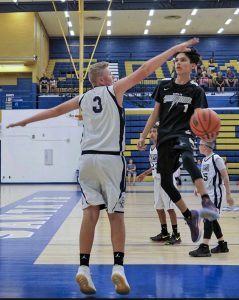 *photos courtesy Michael Roybal
"I was talking with my friend, who was also diagnosed with cancer last year, and he told me that after I beat this it will be the best feeling in the world and I will become stronger because of it."
RC is extremely grateful for all the support he's received since his diagnosis.  "The whole Santa Fe community is reaching out to me and it's been amazing.  This whole thing has been rough, but I have all this support and prayers and I can beat this."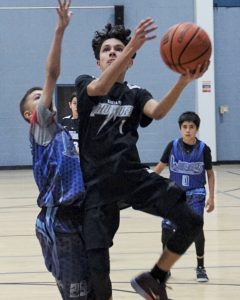 RC's older brother Michael has set up a GoFundMe account to help bills, treatment costs and other expenses related to his fight.  It's called RC's Army Against Sarcoma Cancer and can be found at the following link https://www.gofundme.com/f/rcsarmy-against-sarcoma-cancer