BPA ACTIVITY HELPS KIDS BUILD LIFELONG SKILLS
BPA
What does it stand for?
"When I introduced it to the administration, they asked, 'What's that?'," said Mountainair High School Business Education teacher Linda Modgling. "They didn't have a clue, I had to explain to them what it was."
That's probably the first thing you're thinking as you read this article.
BPA stands for Business Professionals of America.  BPA is a national organization preparing students for a career in business. The mission of BPA is to contribute to the preparation of a world-class workforce through the advancement of leadership, citizenship, academic, and technological skills. Currently, there are 23 New Mexico schools that participate in this activity, Mountainair is one of those schools thanks to Modgling.
"BPA and the BPA students mean the world to me," said Modgling. "Getting this program going in a school that has never had BPA has been a very rewarding experience. Being able to teach the skills of life to my students is a pleasure."
The BPA program at Mountainair is still relatively new.  "This is just our second year," said Modgling.  The lifelong resident of New Mexico had a vision motivated by her own experience.  "I graduated from Estancia back in the 70's and was a part of OEA (Office Education Association, now known as BPA)," she said. "I remember all of the benefits I learned from it and how it helped me.  I wanted to start that here."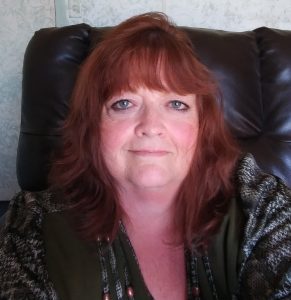 "One of the competitions I was in with OEA, when I was in the program, was how to interview, create a cover letter and resume," she said.  "The skills I learned from that competition benefitted me my entire life.  The group I am currently teaching, by the time they're 38 years old, will go through eighteen jobs. They need to know how to do it. Having been down the road they are going, I know that what they are learning through this program will be with them the rest of their life and will be 'of worth' to them."
The size of the BPA group at Mountainair High School is small with only 12 original members. "But statistically speaking that represents 18 percent of our high school," Modgling joked.  They compete in categories such as finance, business administration, digital communication and design, marketing and communication. Members of the business community interview and judge the students in competition.
Modgling recognizes the importance of her students learning all aspects of how to communicate with people.  "I'm 62 and still learning all this technology," she said. "Students need to be able to communicate with people outside of school, now more than ever."
Her goal is to grow the program and teach her kids the skills she learned that helped her get to where she is today.  "I'd like each student to choose their passion and work toward that passion and get certification in it."
The 2021 BPA State Conference is scheduled for February 15-17.