GET TO KNOW THE COACHES: LORI MABREY, CIBOLA HIGH SCHOOL BASKETBALL
Lori Mabrey is the head basketball coach at Cibola High School.  She has won state championships in New Mexico as both a player and coach.  Lori was born in Pocatello, Idaho, but moved to New Mexico and attended Kirtland Central High School.  "My dad was a boilermaker/welder and worked on the power plants in that area," she said.  Lori was a part of the Lady Broncos basketball dominance in the 80's, winning state championships every year she was in high school.  After a successful high school career, Lori attended Clarendon Junior College in Texas and then spent two years at Eastern New Mexico University.  She began her teaching career in 1990 when she returned to her alma mater at Kirtland Central.  After assistant coaching stops with Kirtland Central and Rio Rancho, Lori has spent the last 15 years with Cibola.  She's won 315 games with the Cougars, with five appearances in the state final, and a state championship in 2015.
Get to know more about Cibola High School girls basketball head coach Lori Mabrey.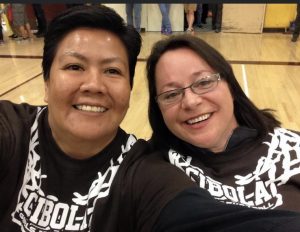 What sports did you participate in high school?
Just basketball and track, I was a sprinter and ran in the open 400 and mile relay.
What was your favorite moment as an athlete?
Definitely, playing for those state championships. Back then, it wasn't a Shiprock-Kirtland rivalry. Back then, it was a St. Pius X-Kirtland rivalry. It was a good rivalry.  We played them in the finals in 1985 and 1986. We didn't play in the Pit back then, we played in local high schools. My strangest memory of state was my sophomore year. I was young and not expecting to go in, our coach didn't sub that much. We were up by 15-20 points and he put me in and I had my shorts on backwards. The stripe on the side of the uniforms didn't match.
Did that ever happen to one of your own players?
In fact, it did. We won it all in 2015, Kayla Martinez played the whole game with her shorts on backwards.
What's your favorite moment as a coach?
There's been so many. I've been so blessed at Cibola. It's been a good opportunity for me there. I love the community. I've had some incredible athletes go through there. There's probably two moments that stand out: winning the first ever district championship for Cibola, the Skye Barnett group. Cibola had never won a district title, they were always in a district with Eldorado or Gallup. Then in 2015, winning the state championship was an incredible ride with that team.
What teacher or coach had the most influence on you?
My high school assistant, Bye Beckstead, he was also my typing teacher. He was a huge mentor to me, he worked with me all the day during the summer giving me all of my basketball knowledge. What I didn't know coaching-wise came from Bobby Mac (McIntyre) at Rio Rancho when I was his assistant.
What kind of player were you?
I was gritty and tough. I was the point guard, the playmaker, I got the ball to the right people. I had to be a good decision maker, I was good at taking care of the basketball.
What was your favorite subject in school?
History. I had a sixth-grade teacher that I love, Mr. Payne, he got me interested in history.
What tv shows do you watch on a regular basis?
Any and all Law and Order, any and all Criminal Minds, and a whole lot of CNN.  I also do a lot of HGTV.
Are you a fix it or renovation type of person?
We are building a house right now.
What kind of experience has building a house been?
It's fun and it's stressful all at the same time.
If I give you the power to put any movie on tv you want to watch tonight, what movie would it be?
The old A Star Is Born with Barbara Streisand and Kris Kristofferson.
Did you like the new remake of A Star Is Born?
It's kind of like The Great Gatsby, the new one's not as good. Leonardo did ok in Gatsby, but Robert Redford is still my favorite.
What's your favorite candy?
Anything chocolate.
If I called up the music on your iPod, what artist would I see the most songs from?
Kris Stapleton, I recently turned to country.
If you could go on vacation anywhere in the world, where would you go?
My bucket list trip is New York City.
If you could only have one food for the rest of your life, what would it be?
Probably an Idaho baked potato.
Do you cook a lot?
I do zero cooking. I'm the cleaner.
What is your life motto?
My life motto in a nutshell, and what I constantly talk to my kids about, is don't get outworked.