GET TO KNOW THE COACHES: KIM BELL, MORIARTY HIGH SCHOOL
Kim Bell has been the head volleyball coach at Moriarty High School for the past 20 years.  She grew up in San Diego, attending Christian High School in El Cajon.  After competing in three sports in high school, Bell played volleyball at Biola University in Los Angeles.  Bell earned a degree in Secondary Education and went back to teach and coach at her high school alma mater.  Bell spent 17 years coaching in California before moving to New Mexico in 2000.  "I really like the change of seasons," she said.  "The two things I always loved was the beach and the mountains, I traded one for the other."   Bell has racked up 276 wins and two state championships (2007, 2008) with the Pintos.  She was diagnosed with cancer in 2008 and has been in remission for the past 13 years.  "I'm thankful, the Lord has been good."
Get to Know more about Moriarty High School volleyball coach Kim Bell.
Being from California, do you miss the beach?
I do, but I don't miss the sand. It gets into everything. I like fishing and like the rivers and camping. It's much easier here than in southern California. Here you can load up your camper and not even have a reservation. I traded in one kind of water for another.
How long have you been coaching/teaching?
I started coaching while I was student teaching.  I coached 18 years in California.  I started at Moriarty when I moved to New Mexico and I'm still here 20 years later.
What sports did you participate in high school?
I played volleyball, basketball and softball.
What made you zero in on volleyball out of those three sports?
I really liked volleyball. I played at Biola where I had a partial scholarship. Getting involved at the collegiate level made me think I could coach this sport. I did officiating for one year and thought I'd like coaching better.
What was your favorite moment as an athlete?
I know we won a CIF championship in basketball my senior year and that was fun. In college, we had a volleyball match that went 3 hours long! It was sideout scoring, the match went forever, I was just about ready to fall over.
What's your favorite moment as a coach?
I think it's probably the year I had my cancer when Del Norte High School did a 'pink game' with us. They already did a 'pink game' and raised a bunch of money to donate. It was very cool. They really went out of their way to do something special for someone.
After being diagnosed with cancer, and then beating the disease, did it change your perspective on anything?
It sounds kind of cliché, but people say 'Every day is a gift', that becomes truth to you.  Every day truly is a gift. I don't know if our kids get that, but I think it's a very valuable lesson for me. As a Christian, I look at it that your very breath comes from God, sometimes we don't think that as we go about our day. It's a good reminder, make those days count.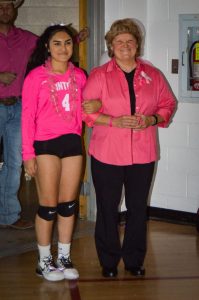 What teacher or coach had the most influence on you?
I would say my volleyball and basketball coach, Penny Phillips. She's the main reason I decided I wanted to go into that field of education and coaching. She had a such a positive impact on my life. I could see myself doing that and be able to hopefully have that impact on someone else.
What was your favorite subject in high school?
I liked school, I did well and got good grades. I'm not much of a math person. I did like English.
What tv shows do you watch on a regular basis?
I'm Survivor fan. I still watch Survivor.  I don't think I saw the first one or two seasons, but I love it.
If I give you the power to put any movie on tv you want to watch, what movie would it be?
I always loved Chariots of Fire, it's a great movie.  Kids today probably don't know what that is.
What's your favorite candy?
Chocolate, anything chocolate.
If I called up the music on your iPod, what artist would I see the most songs from?
Maybe Jeremy Camp.
If you could go on vacation anywhere in the world, where would you go?
Probably Hawaii. I've been there a couple a couple times. I took a team in California there for a tournament, we had a blast. It was much easier to raise money in California for a trip like that (laugh). We literally had the entire trip paid for.
If you could only have one food for the rest of your life, what would it be?
Pizza or tacos, those are my two
When you're not coaching, how do you spend most of your time?
I like fishing and camping, reading, writing.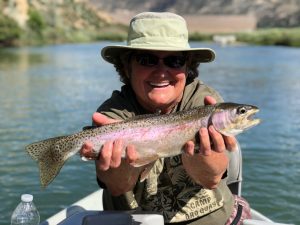 What kind of things do you write?
I write reflective stuff on what I'm learning, thoughts on life and lessons I've learned. Nothing worthy of being published (laugh)
What is your life motto?
I had this with my teams in California, 'No Regrets'. That ties in with some of the other stuff we talked about. If you can live your life with no regrets, everything falls into place. How you treat people and how you play the game, that's something I need to remind myself.
Do you have any regrets?
We all have regrets.  I say 'that was a wasted opportunity', 'I was maybe thinking more about myself'. We live in a self-centered world, we all struggle with it.