GET TO KNOW THE COACHES: KIEF JOHNSON, RUIDOSO HIGH SCHOOL
Kief Johnson is the head football coach at his alma mater, Ruidoso High School.  Kief was a middle linebacker and fullback for the Warriors in high school.  "The coaches were like father figures to me," he said.  Kief also competed in wrestling for a couple seasons and was a sprinter on the track.  He eventually married his high school sweetheart, Jennifer.  "We were on the same Homecoming court," he remembers.  The two have been married for 29 years and have three children, Kaylee, Parker and Morgan.
Kief did his student teaching in Ruidoso. "They had a hiring freeze that next year and so I started at Tularosa," he said. "I was down there a year and came back to Ruidoso until 2006. I then went to Lubbock to coach for my head coach Mike Speck. He was the head coach my senior year and eventually became the head coach at Lubbock High."  Kief returned to Ruidoso in 2007 and has been the head football coach ever since.  He led the Warriors to a pair of Class 4A State Championships in 2014 and 2017.
Get to know more about Ruidoso head coach Kief Johnson.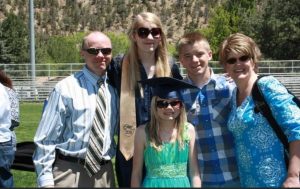 What was your favorite moment as a high school athlete?
One of my favorites was from our sophomore year.  We were playing against Goddard in the Snow bowl of '88.  It was a state semifinal game in Ruidoso.  By the time kickoff started, we had 6-8 inches of snow on the field. It was a fun game, we had a freshman kicker kick a 35-yard field goal in the last seconds to win it. We lost to Portales in the final that year.
What's your favorite moment as a coach?
I would have to go with the 2014 state championship team. My son was a senior and 4-5 of my buddies' kids were seniors that year, too.  It was just a fun group of kids. I say that state championship game because of the atmosphere playing at the Field of Dreams.  We met Cobre in the final and played at a neutral site. It was a lot of fun.
What teacher or coach had the most influence on you?
Growing up, I would say Coach Speck was one of my mentors. He was the linebackers coach and when Cooper Henderson left, he became the head coach my senior year. Through the years, another mentor to me is Rodney Webb.  He was the head coach at Ruidoso one year and defensive coordinator several years before that.  He's a heck of a coach and good guy.
What was your favorite subject in school?
I'd have to say English and probably because it came naturally. Even though, you gotta be careful with your words. One of my teachers said I was illiterate. I wasn't finding what we were reading very interesting. In college, I started in Business and switched to Education and got A's in my English classes.
If I give you the power to put any movie on tv you want to watch, what movie would it be?
I just watched a great one, Greater. It's a good movie, religious background about an Arkansas walk on who made it.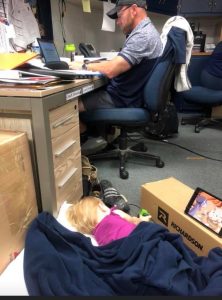 What's your favorite candy?
Peanut M&M's
If you went on a long road trip and were in charge of the music, which artist would you play first?
I've gotten into listening to country.
If you could go on vacation anywhere in the world, where would you go?
My wife and I want to go to Fiji or somewhere in the islands.
If you could only have one food for the rest of your life, what would it be?
Steak, it would have to be steak.
What is your life motto?
One of the big one's is if you find something you love to do, you'll never work a day in your life. We teach our players to respect each other. The big one I learned from a strength coach is that we have good days, better days and great days. We try to teach that positive motto.  We're alive, it's a great day. We don't have a bad day in high school sports. Even with a loss, we got to play, hang out with your buddies and hope we play again soon.