GET TO KNOW THE COACHES: KENNY HENRY, V. SUE CLEVELAND HIGH SCHOOL
Kenny Henry is the track and field and cross-country coach at V. Sue Cleveland High School.  He was born and raised in Albuquerque and comes from a family deeply rooted in the New Mexico athletic community.  Kenny attended La Cueva High School where he was a part of four cross country state championships, and two in track and field.  After a successful high school running career, he took his talents to Baton Rouge to compete at LSU, where he met his wife, Mandy.  They have three kids, Kelly, Lacy and Sean.  As a coach, Kenny has won two cross country state championships at Cibola High School, as well as a pair of track and field state titles with the Cougars.  At Cleveland High School, Kenny's teams have won five state titles in boys cross country, three in girls cross country and seven boys state track titles.  This school year marked his 17th year of teaching and coaching.
Get to know a little more about Kenny Henry.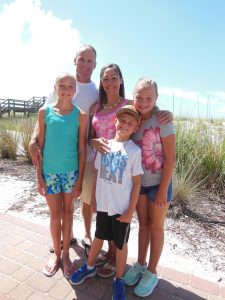 What sports did you participate in high school?
Cross country and track. I did basketball as a freshman, but honestly pretty much cross country and track.
What was your favorite moment as an athlete?
It's hard to pick one.  As a high school athlete, getting to be a part of those championship teams was a special time. My first year at LSU, I scored in the SEC championships in the steeplechase. I thought I'd done something special.
You didn't compete in the steeplechase until you got to college.  How different is that event as opposed to just a distance run without the obstacles?
It was my best event.  If you look at the running aspect, most of the guys I competed with were over my head in terms of ability. But when you add the barriers, it adds a different element to allow me to be more successful than I probably would have otherwise.  It's a unique event and fun to do.
What's your favorite moment as a coach?
That's probably even harder to pick one thing.  I'm going to mention a couple.  For me, when we won our first state title in track and field, when I coached at Cibola, that was a huge moment.  One of my assistant coaches, Matt George, we still coach together, we thought 'We're going to win the team championship!' and that was an unbelievable feeling. We've been fortunate enough to win more and each one has been super memorable. A couple years ago, we found ourselves in a position to win.  We had to win the 4×400 meter relay and Volcano Vista had to finish worse than fourth. We won and set a state record at the same time. Volcano finished fifth, that was probably the most exciting because it came down to the last event. We had Luis Martinez, he went onto the Nike Championships and finished third overall and that was a special moment, too.
What teacher or coach had the most influence on you?
Without question, my dad. He was my coach in high school at La Cueva. The fact he's my dad, and we look up to our parents, to see the way he had so much care for his athletes, it shaped my outlook on how a coach should be.
What was your favorite subject in school?
Of course, being a P.E. teacher, I always like the athletic classes. Science classes were always exciting for me.
Did you ever have intentions to do something else other than coach?
When I started school, my plan was to be a teacher and coach, I think kind of by default. But I think I realized midway thru college I love sports. I did so much, there was absolutely zero chance to continue as an athlete after college.
What tv shows do you watch on a regular basis?
Here at home, I don't have anything I watch on a regular basis, but we watch a lot of NCIS New Orleans because my wife is from there and we find it on the tv more than any other. Other than that, it's a DIY show.
Are you a fix-it guy?
I enjoy doing stuff around the house.  My hobby is woodworking.
What have you built that you're most proud of?
Just during this quarantine time, I built us a brand new bedroom set. I'm pretty happy to knock that out.
If I give you the power to put any movie on tv you want to watch, what movie would it be?
It's been a while, but my favorite movie is probably The Shawshank Redemption. I've seen it a thousand times.
What's your favorite candy?
One thing I grab for is a Big Hunk.
If I called up the music on your iPod, what artist would I see the most songs from?
When I'm working around the house, I listen to music all the time.  I'm a country music guy.  I always fall back to George Strait.
If you could go on vacation anywhere in the world, where would you go?
Somewhere in Mexico for sure. We've done the Cancun thing, which is a blast.  Growing up, my family and I would go to Mexico, I'm a huge fan of the country.
If you could only have one food for the rest of your life, what would it be?
Mexican food. Enchiladas are one of my favorites and tacos of any kind… I love 'em.
What is your life motto?
When it comes to what we preach to the team, it's 'Do the best you can in everything you're doing'. We're broken records as coaches in what we say. Do the best you can all the time.