FORMER GODDARD HIGH SCHOOL STANDOUT GERINA MENDOZA PILLER: "WHERE YOU COME FROM DOESN'T LIMIT WHERE YOU CAN GO"
*photo courtesy of LPGA.com video
Gerina Mendoza won a state volleyball championship at Goddard High School, but it was her work on the golf course as a teenager that led her on her current path.  Gerina, now Gerina Piller, is a professional golfer who also won a high school state golf championship with the Rockets under head coach Becky Robertson.  Gerina took top honors at the state golf championship in 2003 after finishing third in 2001 and second in 2002.
Growing up in New Mexico, Gerina's mother worked three jobs to support Gerina and her two brothers.  "She is still the strongest person I know," Gerina said in a personal video on social media.  Gerina started playing golf at the age of 15.  She wasn't heavily recruited out of high school, but did earn a golf scholarship and a spot on the team at the University of Texas El Paso.  She won four college tournaments her senior year at UTEP and was named the Conference USA Player of the Year and earned her college degree in mathematics. Gerina Mendoza Piller is currently a 10-year veteran of the LPGA Tour. One of her professional highlights is helping the United States team win the Solheim Cup in 2015.
"Where you come from, doesn't limit where you can go," is her message to others.  "One of my callings in life is to use my voice," Gerina wrote in an article for the LPGA.  "Where I'm from is a big part of who I am today."
In her effort to be available to fans, Gerina Mendoza Piller recently took to Twitter for a live Q&A during these nationwide COVID-19 restrictions.  Here's what the former New Mexico standout had to say (#AskGerina):
What are good 'off the course' workouts that you enjoy?
…not sure this counts as working out but I really do enjoy yard work and just being active outside…I have a 2 year old so that's a workout in itself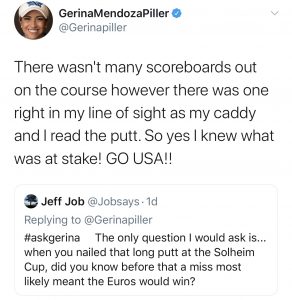 Lowest score in competition?
61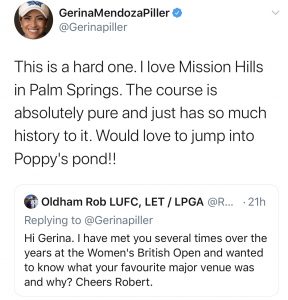 How can we grow women's golf in the United States? I have a 15yr old daughter who loves golf
I think just continue to encourage women of all ages to play even if it's not competitively.  That's great she loves it.  It's a great game that she can play for the rest of her life.  Keep it up!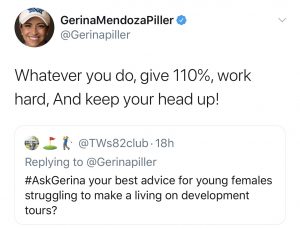 Looking back at your career, would you change anything, or are you happy with how it's turned out?
I wouldn't change a thing.  I'm very fortunate to have had the career and the life I have.  Everything that has happened to me has molded me into the person I am today and I'm very thankful for that!!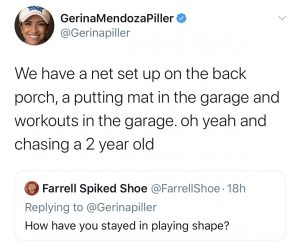 At what age as a junior player did you ever chase more power & distance?
I grew up playing little league baseball for 8 years so that definitely helped my speed.  I was 15 when I started playing so by the time I started taking lessons I had a coach that would make me hit balls swinging my absolute hardest and then worked on the straight part later.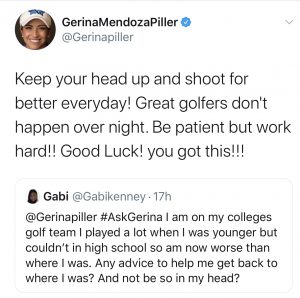 Will you ever consider coaching after you finish playing competitively?
I would love to continue to play for a long time, God Willing.  Wouldn't mind teaching or coaching my son in his sports if given the opportunity!
To read more about Gerina, you can follow her on Twitter at @Gerinapiller or search the hashtag #AskGerina