EVANGEL CHRISTIAN/OAK GROVE COACH IS EXAMPLE OF HOW TO OVERCOME ADVERSITY
With 22 wins this season, the Evangel Christian/Oak Grove boys basketball team posted the best record in program history and landed their best seeding ever at the state tournament.  "It's an honor to make postseason and make state and get a good seeding," said sophomore Andres Garcia.
But this story isn't about seeding or scoring.  It's about perseverance and inspiration.
Evangel Christian/Oak Grove is a small co-op program.  Their coach is knowledgeable, caring and usually in the same spot.  He doesn't move much, not because he doesn't want to, it's because it's difficult to.  "I have a form of muscular dystrophy they can't really figure out," said head coach Edward Khader.  "Having trouble getting up and walking, I sit for most of the game."
Being confined to a chair can be frustrating for a basketball coach. "There's some trouble when I want to get in the ear of the ref a little bit, or get their attention for a timeout," said Khader.  "Sometimes I'll yell at my assistants to help me get up and I will get up when I really want to make a point."
Coach doesn't travel on the team bus because of the difficulty getting on and off, so he follows behind in his own car.  Sometimes just getting to a gym floor can be difficult.  "There have been times that we've had to carry him up the stairs," explained Evangel Christian athletic director Earl Santillanes.
There have been games when halftime had to be held on the court because it's too difficult to get to the lockeroom. "There's been gyms where sometimes their downstairs and they don't have an elevator, so we'll do stuff upstairs," Khader explained.  "It's fine, my kids are resilient."
And that's the message he wants to send to his kids.  No excuses. No obstacle is too difficult to overcome.
"Our coach is so resilient that there isn't much we even have to worry about," said junior Isaiah Zunic.  "He takes time to preplan things out.  He'll ask the refs if our assistant coach can call the timeouts."
"He teaches us a lot, not only in basketball, but in life," said Garcia.  "I'm thankful for him to be in my life and our team's life.  He has a saying, 'You reap what you sow'.  It motivates us to play really hard and I couldn't ask for a better coach."
"There's worse in the world, I'm a blessed person," said Khader.  "I don't complain about it.  It is what it is and I deal with it.  Luckily, I have a great coaching staff."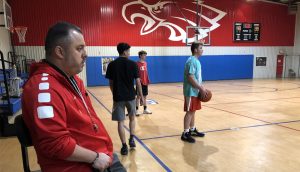 When your coach needs assistance with simple things like just standing up or sitting down, players realize their job on the court isn't so challenging. "If coach can do it with his physical limitations, I've got all my limbs and everything working fine and I'm young and I have stamina, they're not going to give up," said Santillanes.
"He definitely shows us that there's a lot to be done through adversity," added Zunic.  "He's showing us that we will have adversity in life and working through that is our primary goal."
"We talk about it all the time that you're going to have adversity in life and hopefully you use that adversity to become a stronger human being," said Khader.
From a practical standpoint, what if the Eagles advance in the tournament to play in the Pit.  How is coach going to get down that ramp to the court?  He's got that figured out already.
"Wheelchair going backwards and going slow," he joked.  "I don't know if we'll make it back up the ramp for halftime, we may stay down there and talk if we're fortunate to make it that far."
"It's such a joy to have him here, I'm proud to say he's our coach," Santillanes said.
Like I said, this isn't a story about state seeding or advancing.  It's about perseverance, purpose and a positive message.  Win or lose this week, the Eagles know what it takes to overcome adversity.  They see it every day.