GIRLS WRESTLING IN NEW MEXICO CONTINUES TO GROW
The Pintos Invite in Moriarty looks and sounds like any other wrestling tournament with pins and whistles, but this one is a little different… it's an all-girls meet.
"It's been a long time coming for them to finally have their own show, so it's great and good to be a part of it," said Miyamura wrestling coach Nate Sellers.
"It's so exciting because my first tournament ever I had to wrestle all boys and it was terrifying and I lost every single one," recalls Katelin Klepac.  "It's really exciting because now I get to watch our girls wrestle and this is our team and I get to see the girls wrestle and the girls compete and have a good time."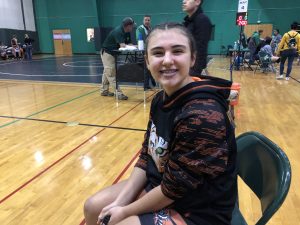 Girls wrestling has more than doubled in New Mexico over the past two years.  Over half a dozen programs took part in the recent Lady Pintos Invite and the wrestlers appreciate the enthusiasm for this growing sport.
"The excitement it can get and everyone yelling, being surrounded by the sound, you just love it," described Aztec sophomore Princess Altsisi.
"It used to be just me and Princess on our team, but now we have more girls and females and as you look at other teams there are more females also," said her teammate Makayla Munoz.
The New Mexico Activities Association sanctioned a girls wrestling division this season.
"Not a lot of states are sanctioned, so this being the first year we are sanctioned, having our own tournament, it's really exciting knowing that we're making that history," said Moriarty junior Chelsea Stiverson.
"It started off very small wrestling boys and now they're sanctioned, so it's good to be a part of it," said Sellers.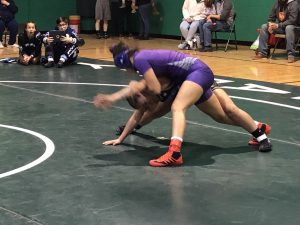 An exhibition event has been held each of the last two years in conjunction with the boys state tournament, but this February the girls will have their own division at the state tournament with medals awarded to the top three participants.
"I'm 36 years old and I remember only seeing a few girls wrestle at the time when I wrestled," said Socorro coach Joel Partridge.  "It's nice to see the girls get their due."
"We've had 1-2 girls the last couple years and each year it seems like a couple more come out and this year with getting sanctioned it's been huge," said Aztec coach Bryan Robison.  "We've gone from two in our room to where now we have ten.  It's huge after they sanctioned it and we're going to keep growing."
"We only had 1-2 girls wrestling in a tournament where they would be counted as exhibitions because there weren't any other girl wrestlers or they would have to wrestle the guys which guys strength beats girls strength, so seeing this it's grown a lot to know we have each other as a fair strength," added Stiverson.
New Mexico is the 18th state to sanction girls wrestling with the sport growing fast nationwide.  The state championships will take place at the Santa Ana Star Center in Rio Rancho on February 21-22, 2020.