CURLEY HOPING FOR A REPEAT PERFORMANCE IN 2019
When it comes to cross country, Navajo Pine has won a state team title in three of the past five years.
"Our school is well known for running program," said cross country coach Kyleigh Thompson.  "When I first ran there, it was nothing but running.  If you look back on our state titles, we have more state titles in cross country than any other sport."
Individually, a runner from Navajo Pine crossed the finish line first at the state cross country championships in three of the past five seasons.  This year Galvin Curley is looking to repeat the feat he accomplished in 2018.
"Galvin, he's one of those top runners," said Thompson.  "He has a lot of endurance and great speed.  He puts a lot of work into his training.  He gets very confident when he gets into his racing mode."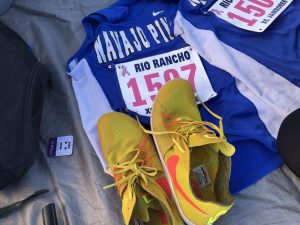 Curley is a senior and the defending state champ.  He first got into running, reluctantly, at a young age.
"I started when I was in the third grade," Curley recalls.  "I would go to my grandma's house.  My mom would drop me off with my brothers.  I would cry because I couldn't keep up with my brothers, so I made a goal for myself to keep up with my brothers."
He eventually would beat his brothers and the competitive spark lit a fire inside Galvin.
"In seventh grade, that's when I realized I started to like running," said Curley.  "I almost went undefeated, I lost one race and that motivated me to keep running."
"When I'm on the line I tell myself everything is going to be ok, stay calm," he said.  "Then when the gun goes off I tell myself 'Your hard work is going to pay off, just keep running and run hard'."
Just keep running and run hard.  It seems to be a formula that has worked pretty well for him so far.  The Laguna Burger State Cross Country Championships are November 9th.