ODD NUMBERED YEAR COULD BE EVEN BETTER FOR UNBEATEN #1 ALBUQUERQUE HIGH
Perfection.  It doesn't come often.  In fact, the last time a boys soccer team ran the table was Sandia Prep in 2005.  The top ranked Albuquerque High boys team has a chance to accomplish the same this year.
"Smaller, athletic but really technical, smart players, and I think more than anything, this group understands how we want to play probably better than any group we've had," is how head coach Lucien Starzynski described this year's squad.
"Our style is more keeping the ball and when we have the chances to go we like to get numbers up," said senior Josiah Henderson.
The Bulldogs are unbeaten, but they don't talk about finishing with a perfect record and winning another state title.
"We don't really talk about it too much," said senior Sam Allred.  "We just focus on the next game and try to get the win."
"We hear it, but when we come together we know our focus is game by game," added Henderson.  "We don't look at the future, we just focus on the next game."
"A characteristic we have about this team is that we really don't get caught up in thinking about things like that," said Starzynski.  "I know that can be a cliché, but every session we have a purpose, every game we have a purpose, and it never really feels with this group that we are thinking about anything other than that session or that game."
The Bulldogs have played in the championship match four of the past five years.  One reason for their consistency might be geography.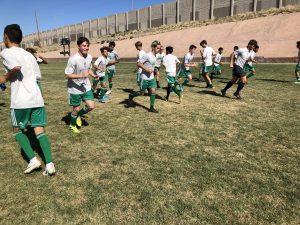 "I think Albuquerque High is the best place to play soccer in the state because we pool players from the UNM neighborhoods, from Martinez town, from south Broadway, from the neighborhoods by the stadium," said Starzynski.  "We've got this clash of worlds and cultures that come here and they bring that background to the field and, for me, it makes for the perfect combination of players in this game of soccer."
"We come from different parts, which means we play different at those parts," explained senior Alberto Rodriguez.  "When those different parts come together, it's something for the other teams to read.  When they try to mark us or pressure us, they don't know how because we play different."
Albuquerque High won a state title in 2015 and 2017.  This is another odd numbered year.  Is 2019 the season they lift the blue trophy again?
"That year in 2015 and 2017 when we won state, that feeling that you have, we have that feeling this year," said Rodriguez.
The Bulldogs earned the #1 seed in Class 5A and a 1st round bye at the Fuddruckers State Soccer Championships.