MELROSE VOLLEYBALL IS HUNGRY TO LIFT THE BLUE TROPHY
"Two points!," that's what the girls say in the huddle as a reminder.
Two points, that's how close the Melrose Buffaloes were to lifting the state volleyball championship trophy for the second straight year.  It didn't happen.  Their rival, Logan High School, beat Melrose 3-2 in the 2018 State Championship final.
Almost a year later, Melrose hasn't lost since that match.  Melrose is one of the few remaining undefeated volleyball teams in the state.
"At the beginning of the season, we talked about being hungry," said head coach Casey Jackson.  "Last year we came close, just two points from winning it, but Logan won.  Now the girls are about being hungry at practice and always trying to get better."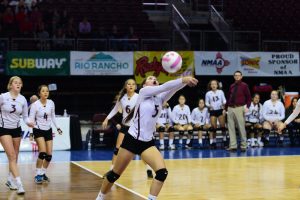 This year's Melrose squad has five returning starters from last season and seven more who saw significant playing time.  "They're experienced and a lot of them have been playing varsity since the 8th grade or freshman year," said Jackson.
Melrose finished last season with a 21-4 record, all four losses coming at the hands of Logan. Melrose built a 14-0 record this year and their next opponent on the schedule is, you guessed it, rival Logan.  Melrose already beat Logan once this season 3-0.  "That win was nice, but the girls are focused on continuing to get better," Jackson said.  "They have their hopes set on the big prize.  The girls came so close and are motivated to get it this time," Jackson added.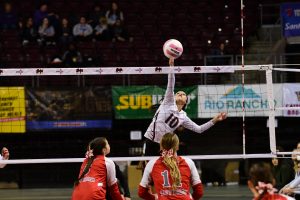 The 2019 Rudy's Real Texas Bar-B-Q State Volleyball Championships begin November 14th at the Santa Ana Star Center in Rio Rancho.