TEXICO'S 2019 GYM CULTURE IS TO "ENJOY THE GAME"
The last time we saw the Texico volleyball team, they were leaving the court as state champs…the same as the year before that, and the year before that, the year before that and the year before that.
"There is some pressure, but it's exciting and kind of a cool role to be in," said junior Riley Rohrbach.  "We're just hoping we can defend that."
"I feel like we have a little bit of pressure on us if we're not as good as we were last year," added Texico senior Ashley Hill.  "But we can get up there and work harder and show other teams that we are."
Texico enters the season as the five-time defending state champs.   Surprisingly, veteran coach Kristen Scanlan doesn't even address the previous year's blue trophy.  "We don't even talk about it, it's a whole new group of kids," she said.  "We have two returning starters from last year's team, so it's a whole new bag every time we come in. We don't focus on that."
Texico's overall record during the past five-year stretch is an impressive 107 wins and just 14 losses.
"When you've won in the past it's easier to continue that winning streak," said Scanlan.  "If you come into a program and you're 5-and-15 it's a lot more difficult.  I think the bar is really high and the kids that are returning keep that bar high."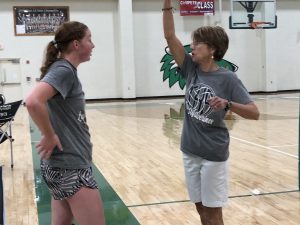 This year's group doesn't have a lot of varsity experience.
"I think we're more of a defensive team, we've got a lot of great hitters," said Phipps.  "It's a very young team, very inexperienced.  We're going to have to work hard to be successful this year."
"It's a little bit different from last year," added Rohrbach.  "Last year we were really heavy in our middle hitters and that's where most of our offense came from.  This year we're playing more defensively, so that's exciting to see."
The seniors come up with a list of goals and the culture they want to establish each year.  On the top of the charts this year is "Enjoy the Game".
"If you're not happy and don't have energy, you're going to get down on each other and yourself," said Hill.  "We want one of our goals to be energy and talk to each other and not get down and encourage each other."
"We get stuck in this thing that it's just all work," said Scanlan.  "Volleyball is such a fun game and such a team game.  You have to have your teammates so we emphasize that."
So what's the outlook for this year's group?
"We gotta grow up really quick and really fast and we'll see what happens from there," said Scanlan.
Texico will open the season September 3rdagainst Grady.